`If you are looking to maximise the space in a bedroom, you cannot go wrong by choosing either a Divan or an Ottoman bed. They both offer space-saving options. It all comes down to what kind of style you want. As in the end, they both save you space and offer plenty of storage.
Both beds offer storage options, and both offer a generous amount of storage space. They are both practical. You can use them to store bed linen, duvets, pillows, clothing and more or less anything you need storage for. So what is the difference between the two?
So firstly, let us look at the Divan bed.
What is a Divan bed?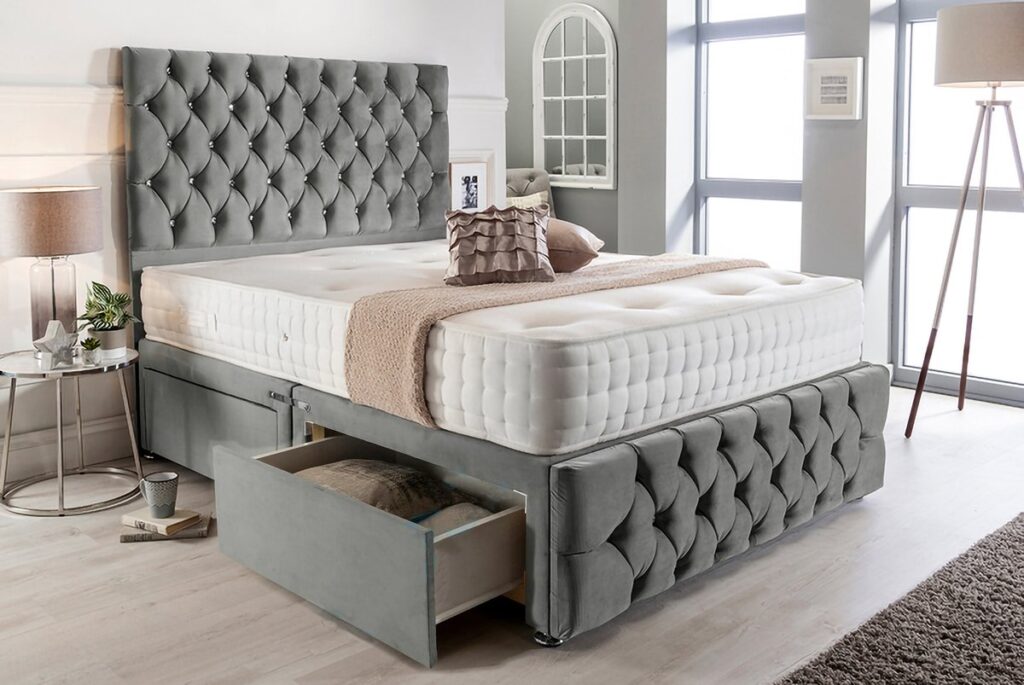 Divan beds are functional and are made of two different parts.are specially designed divan bases and mattresses. Divan bases use a sturdy wooden frame covered in a piece of fabric. The base comes with casters or with wheels, so they are easy to move around. Divan beds can include drawers and a separate headboard. The Divan base will come with a suitable mattress. The Divan bed is also known as the 'divan set' or simply the 'divan', ideal if you are looking for a bed and mattress option as well as ample storage.
Modern Divan beds offer both a traditional slatted bed frame or an inbuilt spring-based system for a nice soft feel. Both these options are of benefit to the sleeping and the mattress. Divans are designed to work with mattresses which increase the longer life span of the bed. With fewer slats, there is less chance of breakages and also that awful squeak that occurs after a few years!
Divan beds are available in a wide range of sizes in the UK, the most typical being the 3ft single, 4ft small double, 4ft 6 standard double, 5ft king and 6ft super king.
So, What Are The Benefits of a Divan Bed?
• Divan beds do not come with headboards. This makes them perfect for smaller rooms, rooms with a sloping ceiling or bedrooms in a loft.
• Divan beds can include drawer space underneath ranging from 1-4. drawers.
• A Divan bed is compact, so won't take up as much room as a wooden based slat bed.
• Divan beds come in a variety of upholstered options dynamic and crazy to plain.
Divan beds are made from a wooden structure, then covered in a layer of soft wadding ( a layer of padding between fabrics sometimes called quilt batting)and then is upholstered in fabric. The base is the same size as the mattress, making them compact, unlike standard wooden bedsteads.
Divan's main benefits, of course, are the practical, generous and versatile storage drawers which, very helpfully, come in a variety of configurations.
Drawer Space
Divan beds can come with a variety of drawer configurations. This is based on the amount of storage you will need and how much access you have around the bed.
A Divan bed is both practical and excellent for storage. It is a very popular choice of bed for those with little space or those who have minimum storage options. They are stylish and can add a contemporary feel to the bedroom. Their simplicity makes them work very well with designers or those who like things minimal and simple.
So What is an Ottoman Bed?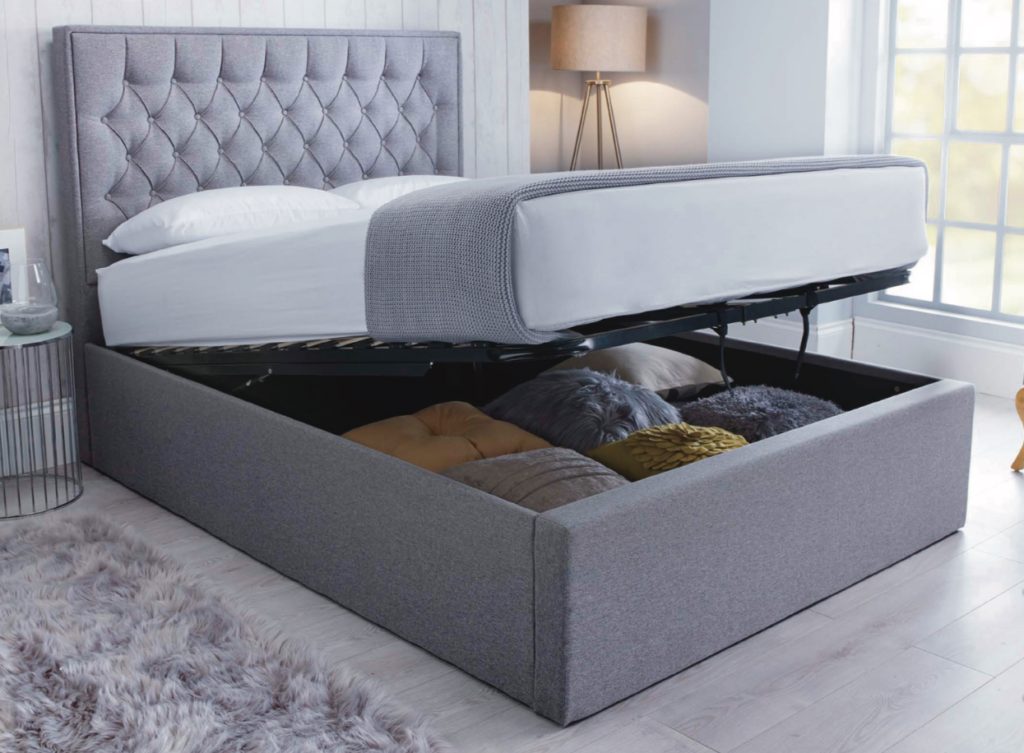 An ottoman bed is a bed that you can also use for storage space like a Divan bed. It relies on a gas-lift hydraulics system that lifts the base of the bed to reveal the storage space underneath.
An Ottoman provides a great storage space like the Divan bed. If you prefer just one storage space instead of drawer space, the Ottoman is the bed for you.
The Ottoman bed originates from the Ottoman Empire. The Ottomans would use furniture designed as storage space too.
So, What Are The Benefits of an Ottoman Bed?
• You can choose whatever headboard you like
• It has the piston hydraulics system for easier storage access
• It has a large storage space hidden away. The storage space is split into two compartments.
So What is the Difference Between A Divan Bed and an Ottoman?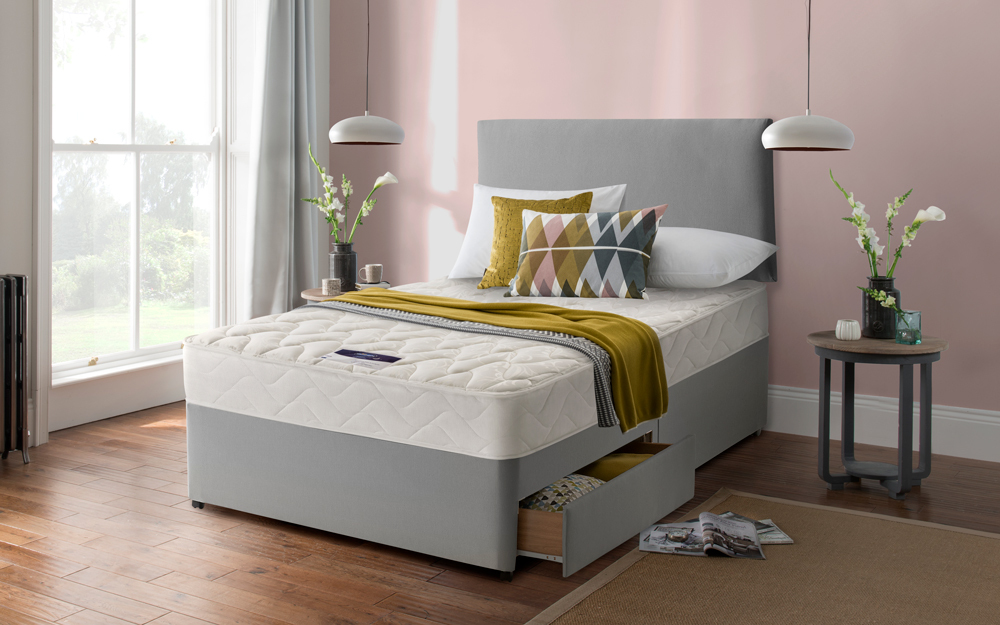 The difference is the storage space. The Ottoman uses a spring mechanism where you simply lift the bed to reveal the storage space. Whilst the Divan bed has drawers in its base. Unlike the Divan bed, the Ottoman uses the entire bed base for its storage. This is perfect for hiding away things like shoes, clothing, bedding and duvets. Most Ottomans will come with a headboard.
Ottoman beds are known to be able to stand the test of time. Durability is as much a part of their design as is their functionality. An Ottoman opens from either the foot end of the bed or from the side. A practical option like the Divan bed if space is a premium. Remember to buy a high-quality Ottoman as cheaply made Ottomans will not be able to hold a large mattress and will collapse and break.
Divan beds are often frowned upon as old-fashioned. They have that lasting image as being something you would find in your grandparent's house or something from the seventies. But they are now becoming more fashionable. Coming in a variety of designs and are great for bedrooms with limited space.
So whether it's space you're looking to free up or extra storage space you need both the Ottoman and the Divan offer these options. It all comes down to preference as to whether you prefer drawers or the Ottoman. We have a wide range of Divans and Otterman's to choose from.