The pandemic caused a real issue for movie enthusiasts. The inability to visit film theaters has left us without the satisfaction of properly enjoying a movie. However, that does not have to be the case when we can improve our home set up and create the best movie-watching experience.
With various gadgets that surely change the way we watch movies at home, we might become overwhelmed. To prevent spending too much on things we don't need, having a guide will surely help the situation.
For that reason, we have made this article with all the essential things you need to create a pleasant home movie station. This includes visuals, audio, as well as a food corner for all your favorite snacks.
1. A large TV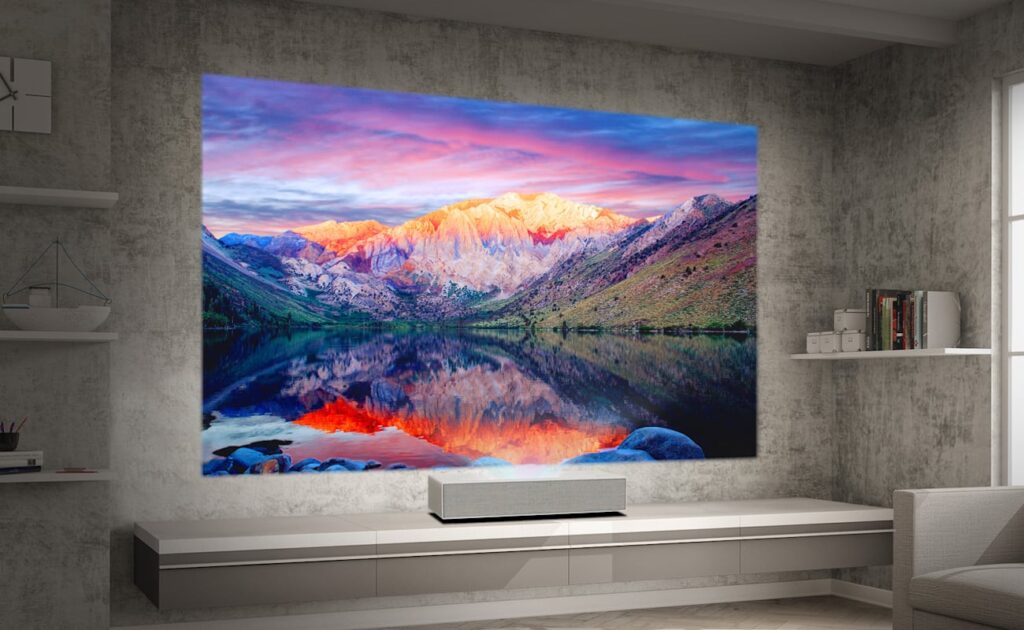 Getting the proportions right with your screen is an important factor for eye satisfaction. In other words, for an improved movie watching session, at least 80 percent of your sight needs to be occupied with the screen. To get the right screen size, there are calculators which determine the right proportions depending on the sitting distance.
Besides the size, the quality of the display is an important aspect. In cinematography, the colors are one of the most important features. That is why you should not cheap out on your tv, and get a display with great blacks and vivid colors.
In addition, you want to look for television with various features and technologies. For example, the ability to connect the tv with Dolby is essential in such scenarios. Having motion clarity is also a great feature for all high-tempo action films.
2. High-quality projector
If getting a tv obstructs your space, you can get settled with a great high-quality projector. It can be mounted on the ceiling, or at the back of the room so you will have no spacing problems. In addition, you can set the screen size up to your needed proportions for a great movie experience.
Being a film addict, you might want to invest in a mobile projector that you can bring wherever you go. Just charge it up and it is ready for the greatest film sessions you and your friends can experience. With various models and pricing, you can choose the options that suit your budget the most, and enjoy your lounging sessions.
3. A great screen for the projector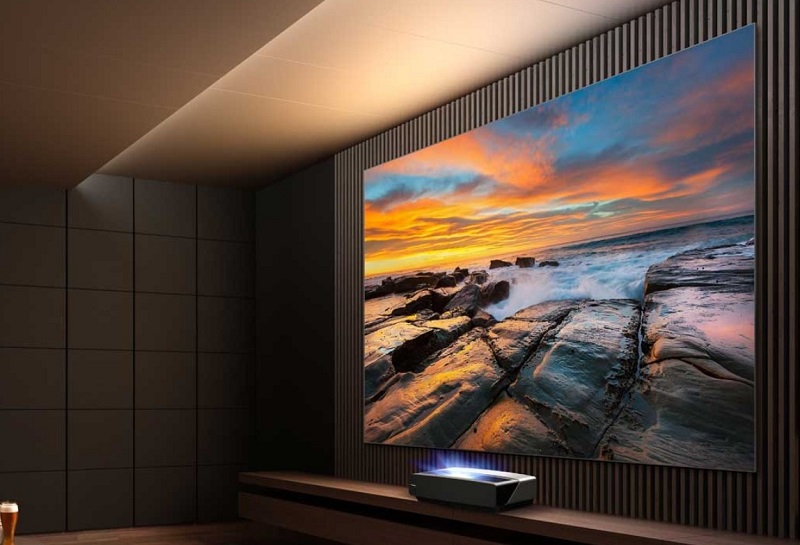 The projector needs to be paired with a great projector screen. If you planned to display on the walls, you might be annoyed by the spots or the uneven places on the wall. For that reason, getting a separate screen is a great option for film station upgrades.
The screen does not take up space since it can be rolled on the top of the ceiling and unrolled only when you are using it. This creates a clean-looking room, that can be easily transformed into a movie watching station. Since these screens are usually quite affordable, there is no excuse for not getting one to pair it with your projector.
4. Audio upgrade
An adequate audio system is essential to improve your film-watching setup. The movies are being made with a lot of tones that are usually missed by people who are watching them on their phones. These details make the film excellent which must be experienced.
For that reason, going with a surrounding system is always the right thing in such situations. With many system options, you can find one that suits your budget. However, if you have a little bit more to spend, it is always advisable to go for a higher tier surround because they significantly improve the watching experience.
If you are a person who enjoys watching films by yourself, or you live in an apartment where you have to be quiet, going for a surround headset is the best solution. That way, you can experience the spatial sounds and vibrations that will make your movie sessions great.
5. Sensitivity vests
Another way to experience the tactile sensations from the cinema is by getting a sensitivity vest. This gadget helps in feeling the vibrations from the movie on the right portion of your body. It has vibration units on the chest, neck, back, and shoulders so you can experience the movie from a different perspective.
This is the future for watching films since they create a unique experience that cannot be accomplished in another way. By combining the touch with the visual and audio sensations, there is nothing that can beat that film-watching experience.
Besides movies, this accessory will improve your gaming sessions especially if you are a fan of virtual reality machines. In addition, if you engage in live stream concerts, you will feel them like real events.
If you want to see how these vests work, you can check the review of the Woojer Vest below:
6. Comfortable seating
Getting appropriate seating is highly important for your comfort while trying to enjoy a movie. For that reason, getting lounge chairs, or investing in real theater seating can be your next investment. In addition, going for lazy bags can also be a great choice when the comfortability is not compromised.
7. Fridge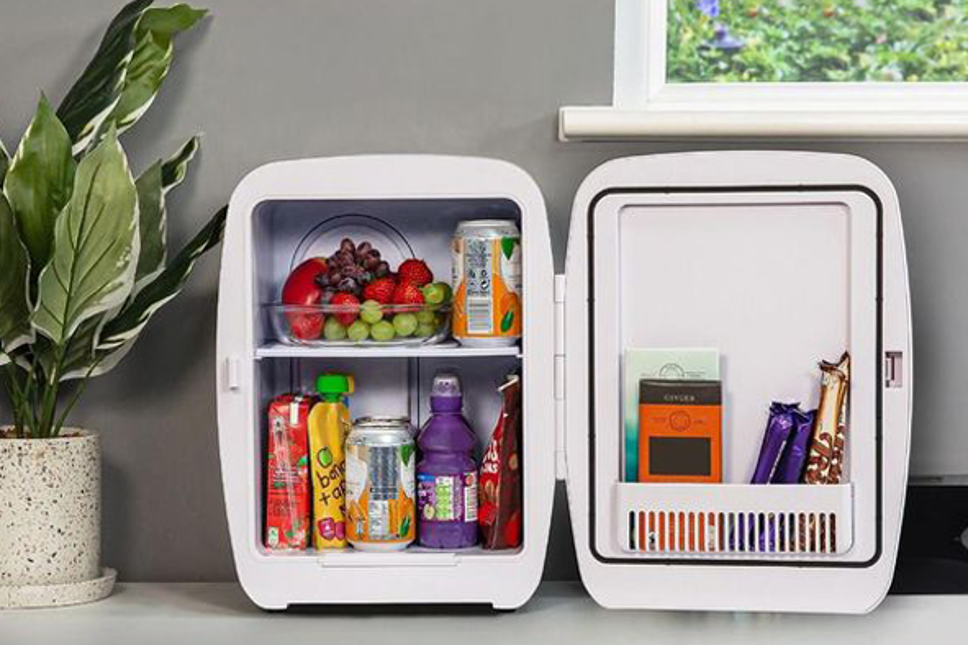 The movies do not feel right when you don't have your favorite beverage next to you. For that reason, investing in a small fridge is a great upgrade since you will always have cold drinks on hand. Make sure to stack it up regularly to prevent unneeded runs to the store.
As a way to save space, there are coffee tables with an implemented fridge inside them. While you will have an area to place your items on, with a simple slide of a drawer you have access to your cold drinks.
8. Food accessories
Just like drinks, movies do not go well without snacks. With infinite food accessory options, you can't go wrong if you get the item that suits your favorite food.
For example, popcorn is something that everyone enjoys while staring at a screen. It tastes great, and you can repetitively eat without ingesting too many calories. That is why you should get a popcorn machine, especially for your film watching station.
If you are more of a chips person, there are great plates with a small cup in the middle for your sauce. They prevent spills so you can dip your chips without worrying about leaving disgusting stains all over the seating and carpets.
The movie station of yours has to be built the way you prefer. For that reason, you need to get all the gadgets and accessories you think you need. We have only listed the ones we think are great, so if you have an idea of better gadget choices, feel free to explore.