If you're a fan of time travel plot, then you must have watched many Time Travel classics, even highest-grossing Avengers Endgame had a concept of Time-Travel. But if we are talking about the mind-blowing Time -Travel, then Dark is one of the best TV shows ever made. However, the show was German, and with the help of Netlflix, such a masterpiece witnessed on a global scale.
Trailer
But the center of attention of the series is its plot, and the casual audience can't handle the twists and turns of the show. So thorough focus and concentration are required to understand the show at the highest level. So for season 1, we completely breakdown the plot for you, and Episode wise walkthrough is on its way. So stick to the content and encounter the Dark scenario of Dark. So first you have to know about the cast of the series.
Cast (IMDb)
  Louis Hofmann … Jonas Kahnwald

 Karoline Eichhorn … Charlotte Doppler 

 Maja Schöne … Hannah Kahnwald 

Jördis Triebel … Katharina Nielsen 

 Lisa Vicari … Martha Nielsen

Stephan Kampwirth … Peter Doppler

Andreas Pietschmann … The Stranger 

 Moritz Jahn … Magnus Nielsen 

 Paul Lux … Bartosz Tiedemann 

Christian Hutcherson … Magnus Nielson 

Oliver Masucci … Ulrich Nielsen 

 Peter Benedict … Aleksander Tiedemann 

 Gina Stiebitz … Franziska Doppler 

 Deborah Kaufmann … Regina Tiedemann 

 Daan Lennard Liebrenz … Mikkel Nielsen

Carlotta von Falkenhayn … Elisabeth Doppler

Julika Jenkins … Claudia Tiedemann 1987 

Tamar Pelzig … Doris 

 Leopold Hornung … Torben Wöller 

Mark Waschke … Noah 

Dietrich Hollinderbäumer … Adam

Christian Pätzold … Egon Tiedemann 1986 

 Will Beinbrink … The Stranger

Hermann Beyer … Helge Doppler 

 Christian Steyer … H.G. Tannhaus 1986 

Anne Ratte-Polle … Ines Kahnwald 1986 

Lisa Kreuzer … Claudia Tiedemann 

Lydia Makrides … Regina Tiedemann 1986 

Walter Kreye … Tronte Nielsen 

Tatja Seibt … Jana Nielsen

Nele Trebs … Katharina Nielsen 1986 

Tom Philipp … Helge Doppler 1953

 Shani Atias … Hannah Kahnwald

Ella Lee … Hannah Kahnwald 1986 

Mieke Schymura … Police Officer Jankowski

Sebastian Hülk … Egon Tiedemann 1953 

 Peter Schneider … Helge Doppler 1986 

 Lea Willkowsky … Secretary Jasmin Trewen 

Antje Traue … Agnes Nielsen

Anton Rubtsov … Benni 

 Sandra Borgmann … Elisabeth Doppler 2053 

 Lea van Acken … Girl from the Future 

 Max Schimmelpfennig … Young Noah 

Sylvester Groth … Investigator Clausen

Ludger Bökelmann … Ulrich Nielsen 1986 

Cordelia Wege … Greta Doppler 1953 

 Florian Panzner … Daniel Kahnwald 

Sebastian Rudolph … Michael Kahnwald

Jakob Diehl … Adult Unknown

 Hans Diehl … Old Unknown

Claude Heinrich … Young Unknown

Carina Wiese … Adult Franziska Doppler 

Arnd Klawitter … H.G. Tannhaus 1953 

Barbara Nüsse … Eva

Angela Winkler … Ines Kahnwald

 Luise Heyer … Doris Tiedemann 

 Tom Jahn … Jürgen Obendorf

Winfried Glatzeder … Old Ulrich Nielsen 1987 

 Felix Kramer … Tronte Nielsen 1986

 Wolfram Koch … Adult Magnus Nielsen 

Nina Kronjäger … Female Stranger

Gwendolyn Göbel … Claudia Tiedemann 1953 

 Joshio Marlon … Tronte Nielsen 1953 

Anne Lebinsky … Jana Nielsen 1986

Anatole Taubman … Bernd Doppler 1953 

Michael Mendl … Bernd Doppler 1986 

Tara Fischer … Girl in School 

Stephanie Amarell … Charlotte Doppler 1986 

 Anna König … Pathologist Edda Heimann

 Sammy Scheuritzel … Kilian Obendorf 

Rike Sindler … Jana Nielsen 1953 

 Vico Mücke … Yasin Friese

Nils Brunkhorst … Teacher

Béla Gábor Lenz … Aleksander Tiedemann 1986 

Lena Urzendowsky … Ines Kahnwald 1953 

Paul Radom … Erik Obendorf

Roland Wolf … Police Officer 1954 

Lena Dörrie … Nurse Clara Schrage

Katharina Spiering … Helene Albers

Roman Knizka … Adult Bartosz Tiedemann

 Axel Werner … Gustav Tannhaus

Thomas Arnold … Farmer Hermann Albers

Franz Hartwig … Martin Döhring 

Denis Schmidt … Sebastian Krüger

Henning Peker … Pathologist Udo Meier

Anna Schönberg … Nurse Donata

Andreas Schröders … Powerplant Worker 

 Barbara Philipp … Caseworker Selma Ahrens

Tilla Kratochwil … Adult Erna 

Lena Milan … Pathologist

Valentin Oppermann … Mads Nielsen

Helena Pieske … Agnes Nielsen 1921

Leon Lukas Blaschke … Student #2 Theater

Nino Böhlau … Bully 

Eva Maria Jost … Nurse Anne Reisch

Helena Abay … Yasin's Mother

Jennipher Antoni … Ulla Obendorf

Lenz Lengers … Bully 

Nina Weniger … School for the Deaf Teacher

Eric Bouwer … Male Nurse Psychiatry

Hendrik Heutmann … Farmer 

Jörg Malchow … Prison Guard 1954

Mariella Josephine Aumann … Young Helene Albers

Werner Wölbern … Gustav Tannhaus' Father

Oliver Bigalke … Farmer 

 Lisa-Marie Janke … Nurse

 Christian Kerepeszki … Powerplant Worker 

Linus Fischer … Young Gustav Tannhaus

Holger Handtke … Doctor

Cornelia Lippert … Woman Search Party

Arne Fiedler … Labratory Technician

Natascha Paulick … Drama Teacher

 Michael Schenk … Mayor of Winden

 Hannes Wegener … Dr. Reimann

Alexander Schubert … Power Plant Security Guard

Luc Feit … Veterinarian Dr. Schaller

Michael Ihnow … Library Employee

 Paula Kroh … Library Student

Christian Kuchenbuch … Regina's Doctor

Frédéric Vonhof … Scientist in Future

 Maximilian Dirr … Soldier Checkpoint

 Anjorka Strechel … Soldier in Tent

 Chris Theisinger … Mercenary 2053

Isaak Dentler … Burglar

 Aurora Dervisi … Child Silja

 Jonas Gerzabek … Child Jonas Kahnwald

Moritz Heinlin … Bus Driver

 Svenja Jung … Sonja Tannhaus

Luna Arwen Krüger … Child Martha Nielsen

 Till Patz … Child Noah

 Lissy Pernthaler … Adult Silja Tiedemann

 Merlin Rose … Marek Tannhaus

 Pablo Striebeck … Young Peter Doppler

 Anja Willutzki … Young Erna

 Harald Effenberg … Mann Suchtrupp (2017)

 Frederik Klaus … Police Officer (uncredited)

 Mandy M. Haupert … Teacher at Anniversary Party (uncredited)
Season 1 Episode 1- Secrets
The intro starts with displaying characters within their timelines as they are young, adult, and elder. Several photos are placed upon a wall in the bunker, and Michael wrote a letter and attempted suicide. His letter states that do not open before November 4, 10:13 PM. Jonas Kanhwald wakes up suddenly, and it felt like a nightmare to him. Jona's Mother Hannah is getting physical with her affair Ulrich and Jonas called her for the power cut. Jonas is heading to the school after a month since his father died.
He saw the missing poster of Eric Obendorf, the boy who was missing for a month. Winden Caves is the most mysterious place in the town, and there are voices from all over the place. Peter, who is the therapist of Jonas, talking about the possibilities of the nightmares he experiencing. Ines Kahnwald is listening to the radio, and now Nielsen's family got introduced with the likes of Martha and Mikkel and finally Magnus. Jonas greeted his friend Bartosz and police had a meeting about the lost boy Eric Ubendroff, and his father created a fuss in the police station. A person is standing outside the Winden caves, and Magnus meeting with his flame Franziska and Jonas found out that Martha and Bartosz are dating. Katharina Nielsen is the headmaster of the school and clarified the situation of Eric Ubendorff. 
Ulrich and Charlotte are also discussing the case, and Charlotte reminds Ulrich about his brother, who was also missing years ago. Regina Tiedemann is the owner of Hotel Winden and talking about loans after the delay in payments. Bartosz telling Jonas about the stuff of Eric and suspected that he left somewhere near the caves and asked Jonas to retrieve it. Ulrich asking about Mads and Helge Dopler states the fact that it's going to happen again. Eric was found sleeping in a bunker full of music and a chair.
Bartosz clarified about the stuff to Jonas to use the half and sell the other half; he also invited Magnus and Martha to the scene. Katharina found women's hair on Ulrich Body and suspected something fishy going around. Ines watching the letter and wants to open before the time, and Hannah headed to the school. Jonas and Martha are residing near the caves and having a conversation about Bartosz and her dating. Jonas used the term as a Glitch in the Matrix for Deja vu, and Magnus appeared with Mikkel. The group headed near the caves, and Dopler keeps on repeating it's going to happen again and reached the parents-teacher meeting. Ines opened the letter as suggested by the Micheal Kahnwald and read it.
Now the group in the pursue of stuff, but Bartosz found out that its already gone and Franziska already retrieved it. Franziska told Bartosz to purchase the stuff, but he shoved her to the ground, and suddenly their flashlights keep on flashing. Jonas accompanied by Mikkel, and everybody starts running, and suddenly they got separated, and Jonas found his father Micheal blood headed. Everybody ran, and they are looking for Jonas and Mikkel, Jonas reunited with them, but Mikkel is still missing.
Dopler says that it's too late and everybody got a call suddenly. Police reached out to the group, and Ulrich starts finding Mikkel, but he is nowhere to found. Now another boy is also missing, and everybody got freaked out by what's happening in the town. Peter repeatedly says: God Grant me the Serenity to accept the things I cannot change. Police are now looking for Mikkel, and Ulrich is wandering in the wood to search his child. He met Charlotte over there, and they found a body; first, they think that its Mikkel but a  boy whose eyes are burnt lying down there. Ulrich quickly comes to the conclusion that it's not Mikkel. There are some things lying with the body, and next, Eric is tied to the chair by a mysterious man, and his eyes got covered.
Walkthrough
Micheal Kanhwald– father of lead Character Jonas committed suicide and left a letter. Jonas and his friends are looking for stuff that Eric hid in plain sight. Helge Dopler warns about the possibility of the cycle which happened every 33 years, and as it happened, another boy Mikkel got missing, and the cycle repeated itself. Body of Ulrich's brother Mads was found in the woods, and it got preserved for 33 years. In the end, Eric will be the same victim as Mads Nielsen 33 years ago.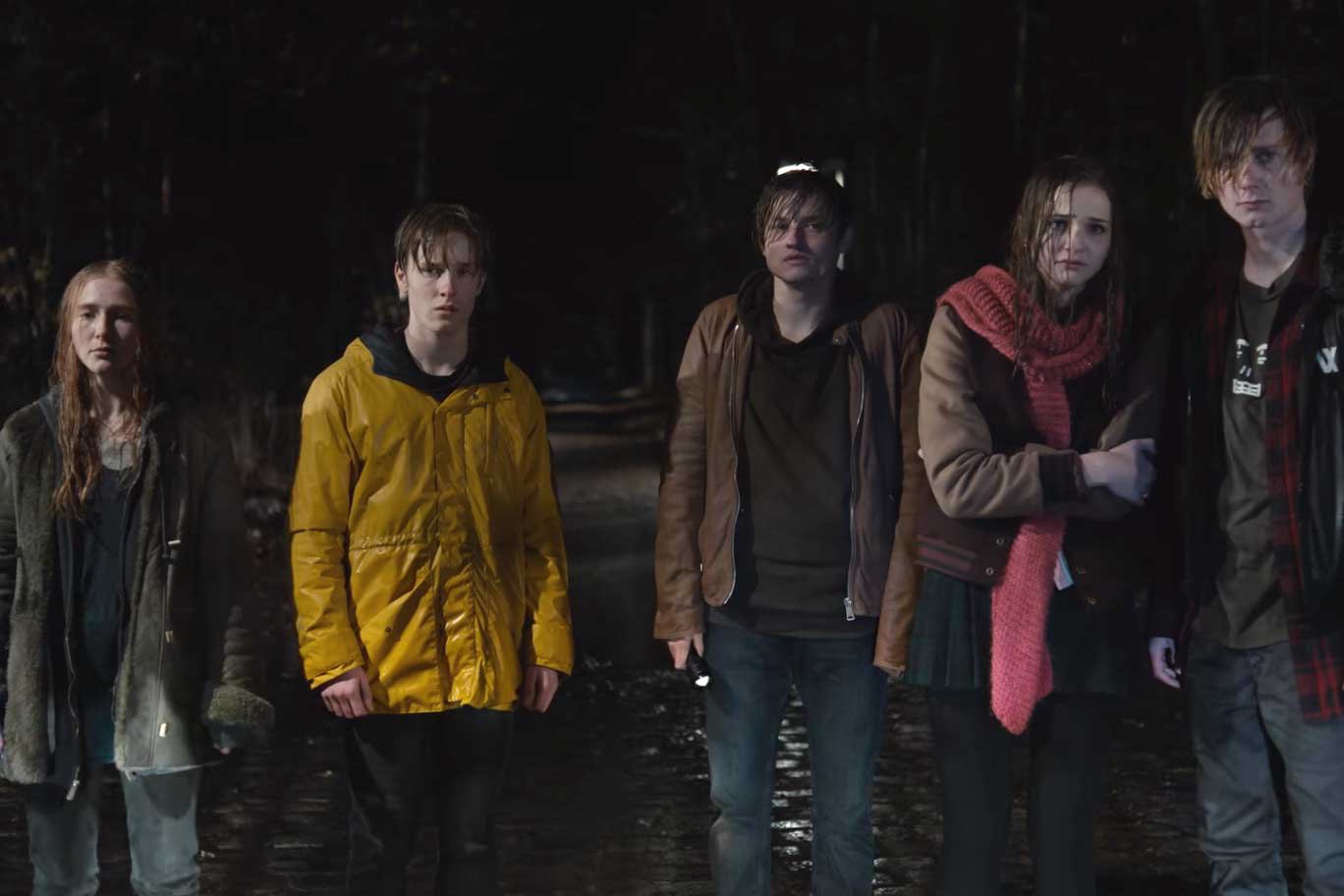 Season 1 Episode 2- Lies
After the sudden disappearance of Mikkel, a young man is walking down the woods with a suitcase and checking on dead birds. Police are searching for Mikkel, and Jonas suddenly wakes up like he always does. His ears are bleeding, and he had a nightmare, and in reality, e woke up. Charlotte examing the body they found in the woods, and the reason for his death is a deafening sound. Ulrich examing the cave and search for Mikkel, he moves further to the caves and found a door which could be nuclear reactive and biohazard warning.
The door is locked, and Ulrich tried to open it, and Franziska roaming around the woods and greets Magnus. Peter sobs while listening to the radio and still had some grief about the sins he had done. Tronte Nielsen washing his clothes, which had blood stains on it, and Jana Nielsen suddenly entered and told him about Ulrich. She asked him about his whereabouts, and he told him about the garden. She suspected that it's exactly like when his son disappeared. Katarina told Martha about Mad's disappearance after the missing of Mikkel. Charlotte showed the pieces of evidence and stated the fact that every evidence belongs to the 1980s. Ulrich told Charlotte about the door in the cave and told her that it leads to the nuclear plant and need the warrant to examine it.
Ulrich told Charlotte that maybe she is right, and the same incidents are happening precisely like 33 years ago. Jurgen greeted Aleksander and talks about something very secretive to the town. Now the young man entered the hotel Winden and asked for a room. Regina showed him the way, and Jonas is sneaking into the place where his father committed suicide. Police keep on searching for Mikkel, and Tronte is looking for its grandchild. Jana opened the box, which belongs to Mads and, again, the mysterious person sneaking outside the cave.
Now the man who resides in the hotel had some patterns on the wall of the room, and he is looking for some answers. He has a book named A Journey Through Time". He puts a strange device out of his suitcase and Jana visiting the grave of his son Mads. Charlotte told Ulrich that Aleksander had blocked the police from entering, and Katharina is waiting for Mikkel's return. Hannah is calling Ulrich, but he declined and kept on driving his car, and on the other hand, Martha ignoring the calls of Bartosz. Magnus punching the walls and regret taking Mikkel with him that night. Jonas also discovered some patterns on the wall and a secrete passage to a map. Its the cave's route, and Jonas is looking very steadily at it.
On the other hand, Eric was at the same place tied to the chair, and his eyes covered. Ulrich confronted Aleksander to let him search the site, and Aleksander declined it by stating the fact that its a highly secured area. Ulrich warned him about the warrant and explored the place forcefully. Bartosz found the cell of Eric, which is password-protected, and Ulrich is heading to the police station and found Hannah there.
Now Jonas is looking at the map, and on the other hand, Ulrich examining the evidence and found the tire marks on the place. He saw something suspicious with missing child's father, Jurgen, and wanted to confront him. He headed to its location and found some narcotics, and Jurgen asserted the fact he and his son are selling those before he got disappeared. Now the mysterious man dragging the body of Eric and a container loading some material under the supervision of Aleksander. Hannah and Jonas are talking about the situation and talking about Micheal.
Tronte again woke up and heading somewhere, and Ulrich finally back at his home and talking with Katharina. Again Lights are flickering, and birds fell from the sky and dead, and its because due to radiation. The young man in the hotel changed the headline from where is Mikkel to When is Mikkel?. Mikkel found himself to the other side of the caves and walked out of it. Now Mikkel is wandering in the town and trying to enter his house and finds younger Ulrich. He seems surprised by seeing his parents at a very young age. He found a newspaper with a date of November 5, 1986.
Walkthrough
Now the concept of Time travel came into effect as the man who is residing in a hotel is Adult Jonas. It is evident that Mikkel is already in 1986 by crossing the paths of the cave.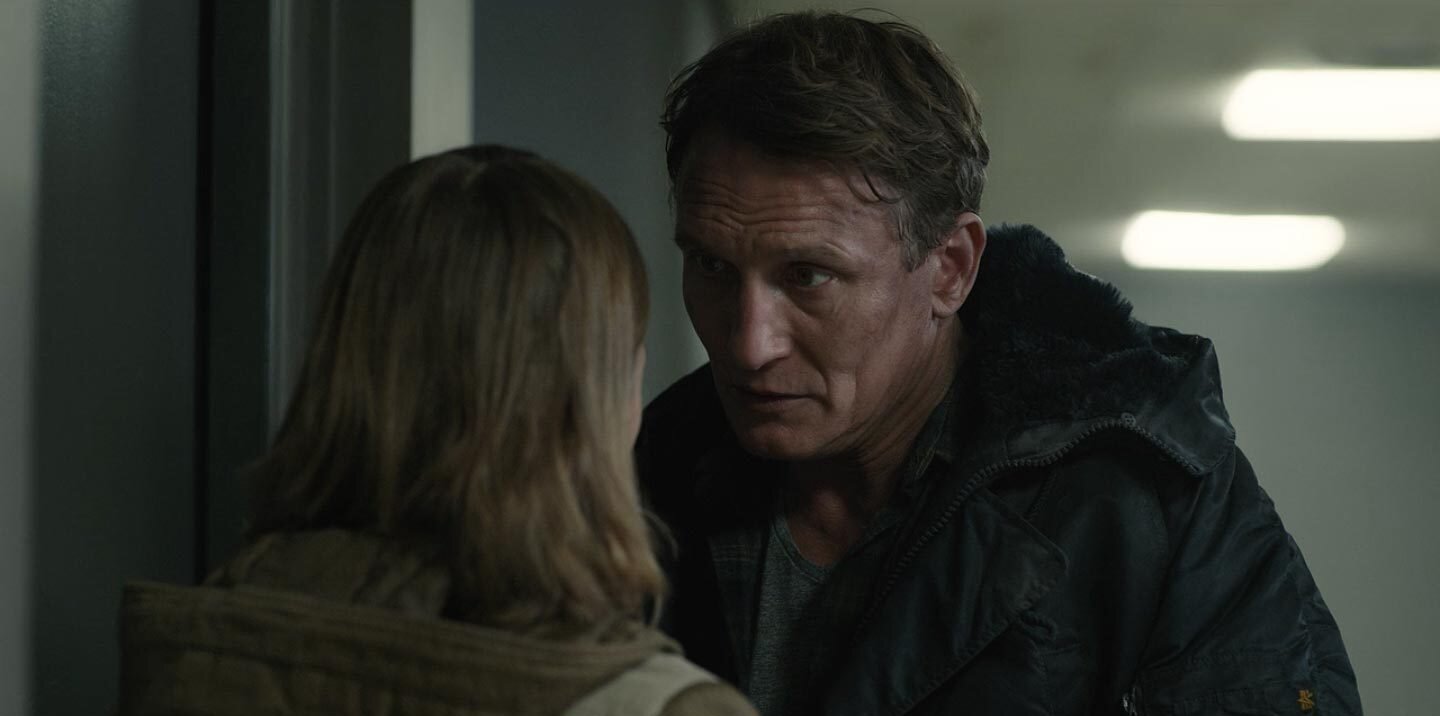 Season 1 Episode 3- Past and Present
Chocolate advertisement running on the TV and Mikkel sneaking Ulrich's house, and he entered it somehow. He finds Jana there and asks her about his parents, but instead, she asks him about Mads. Mikkel ran away from there, and Ines is working as a Nurse in the hospital. Charlotte is riding on her bicycle and found a dead bird on her way. Egon Tiedemann is the policeman and sitting in his cabin and attending dispatch calls.
Claudia is driving the car and asks her daughter about her condition. Mikkel is heading to the school, and he meets Katharina and Hannah over there. He claims that his mom is the principal as still, he can't believe the fact that he traveled in 1986. On the other hand, Claudia is all set to be in her new role and found Helge as a gatekeeper, and he gifted something to Claudia.
Egon is examing the dead animals in the area as 33 sheep were killed suddenly. Now Mikkel reached the office of Egon, and he asserted that he was looking for his father and told him the name, Ulrich Nielsen. Egon confused with the fact and assumed it was a joke. Mikkel asked him about the date, and Egon said to him that this is 1986. Egon called the emergency services and ordered to pick Mikkel from there and left him there. Tronte is waiting for Claudia about an interview, and Claudia declined it. They are also engaged in an unwarranted relationship. Mikkel called the number, which is not currently in service. He founds the missing Mads Nielsen report on Egon's desk and then saw the photo of his dad and Mads.
Ines approached him and wants him to take to the hospital and then promise him to take him home safely. Now Egon headed to Ulrich's home and barged straight into Ulrich's room, where he is playing games with loud music. Egon confronted him for the prank but instead bashed by Ulrich for not finding his brother. Now Mikkel is headed to the hospital and received treatment. At the same time, Claudia confronted Bernd for the wrong reports and accounts. Charlotte is drawing the bird, and the sheep are getting under forensic tests. It is claimed that they are died because of a heart attack as they are compassionate creatures. Bernd takes Claudia to a secret passage, and she witnessed the tons of barrels over there. Mikkel confessed to Inis that he comes from the future, and she felt quite surprised.
Egon again patrolling and suddenly lights flickering still, and birds fell from the sky. Mikkel ran away from the hospital through a window, and Ulrich was sitting on the bench with Hannah. Mikkel back, heading for the caves, and Ines found out that he ran away. Claudia opened the gift, and it's the same book that adult Jonas possesses. A side by side resemblance of the characters through the past and future shown. Mikkel entered into the caves with a lighter and got injured again, and Ulrich tried to breach the gate. Mikkel called for help, and its heard by Ulrich from the other side, and somehow, he managed to go back to the entry of the cave. Tannaus is fixing the Device and starts it.
Walkthrough
Now the show is heading to its center of attention, and that is time travel, Mikkel already reached in 1986, and adult Jonas also reached in 2019. So they both traveled to the past and Jonas with the help of Device, whereas Mikel through the secret passage of the caves. Tannaus is fixing the Device in the end.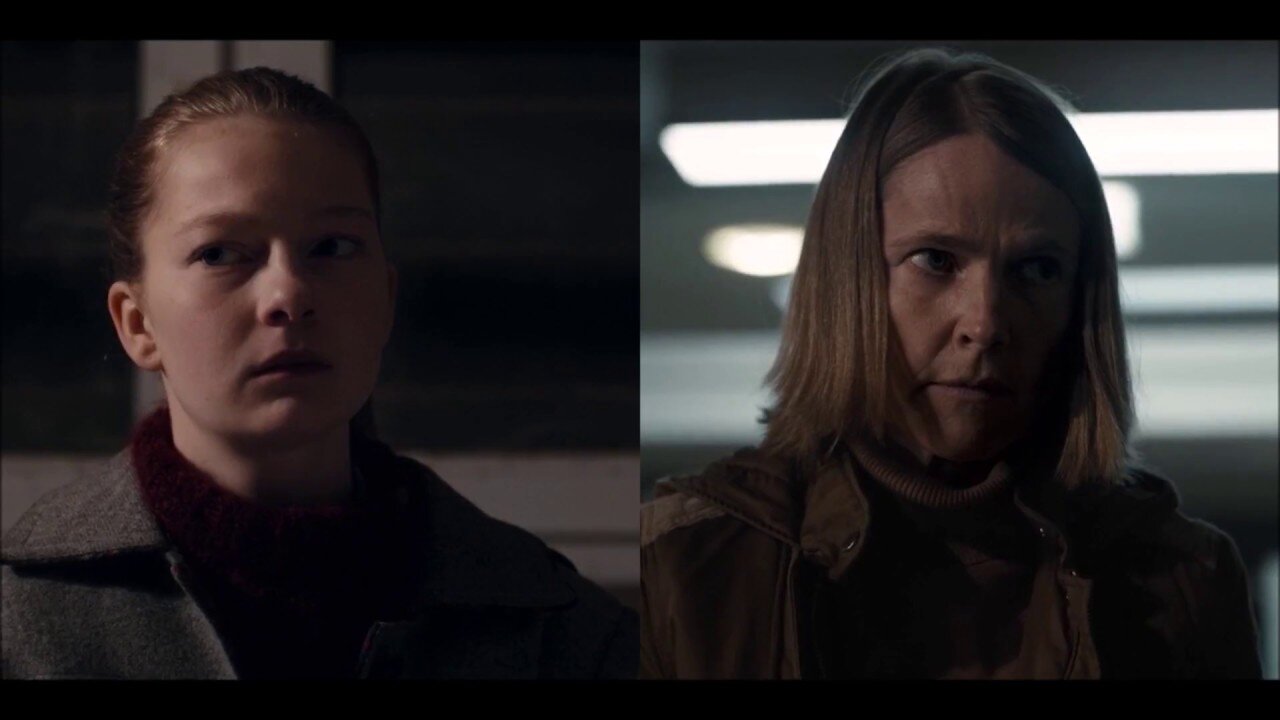 Season 1 Episode 4- Double Lives
The Episode starts with showcasing bunker and the infamous chair. Helge keeps on saying Tick-Tock and again the Mysterious guy standing outside the caves. Now Charlotte's family in the frame as Fransizska demanding lipstick from his sister Elisabeth who is dumb and deaf. Elisabeth is talking about Mikkel that she never wants him to come back. Jonas is heading for the school, and Hannah asks him to spend some time with her.
Peter is now meeting with Helge, and he keeps on insisting that it has to stop. Now Mikkel posters all around, and Charlotte dropped Elisabeth to the school, and at the same time, she stole the camera drives from the box. Now Jonas is heading to the cave with a map in his hands and adult Jonas sneaking at him from a tree. Magnus followed Franziska, and now birds are being examined for the cause of their sudden death. Jonas was trying to explore the caves and suspected that he is being followed.
Charlotte found the footage of a car as she is suspected something wrong. The car belongs to none other than his husband, Peter. Peter tries to remove all the soil from the car's surface and suddenly got a call from Charlotte. Franziska heading to the woods and suspected that someone is following her, and it was Magnus. He saw her taking something out from the railway tracks and placed it in her pocket. Charlotte is heading to Bernadette's RV and ask about Peter, and she wants to ask her about location on Monday.
Magnus followed Franziska to her locker room while she was changing her clothes. Jonas found a red ribbon on his bike, and Charlotte found the red soil and found out that birds died due to failed eardrums due to electromagnetic fields. Charlotte discovered the bunker and found out that Ulrich tried to breach the gate. Magnus entered the Franziska's locker room and found her money and ask about it. She disclosed her family, and then they caught up in a close moment and got physical in the locker room. Charlotte asked Peter to pick Elisabeth from the school as she wants to meet Ulrich as soon as possible.
Now Elizabeth walking herself to home and Peter finds out that she didn't wait for Charlotte. Then Charlotte found her hat, and Jonas had enough with the map and slept afterward. Helge is heading to the tunnel again and being stopped by a policeman. Elisabeth came back, and she said that she met someone and gave her a watch. She stated the fact that a guy named Noah gave her the watch, which had Charlotte engraved on it. Then adult Jonas came into the room of young Jonas and marked the spot on the map.
Walkthrough
Now the secrets getting unfolded as Helge has to do something with the children missing. There is something behind the gate in the nuclear plant. Now Jonas could go to the desired spot as it got marked by the adult Jonas in the first place.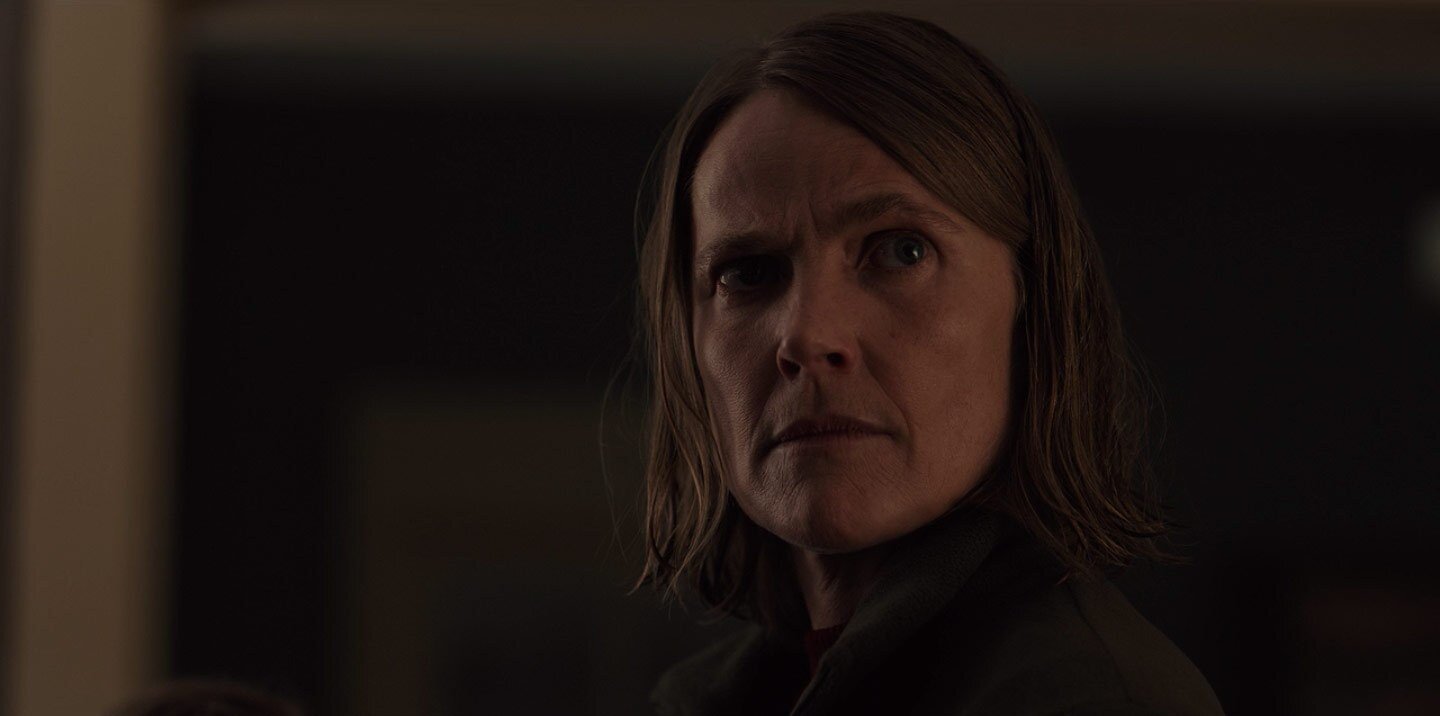 Season 1 Episode 5- Truths
Hannah is trying to reach Ulrich, and he is not picking his phone, Ines takes a look at Mikkel. Jonas woke up and found a text from Martha as she is ignoring calls from Bartosz. Yasin, who is a friend of Elisabeth, also went missing, and Charlotte gives the sad news to her. Charlotte asked about the watch that Noah gave to her, and Elisabeth told the description of Noah.
Charlotte wants Elisabeth to give every necessary detail about Noah as she wants to create a sketch of him. She also suspects Peter if he is involved in such activities and somehow connected to the missing children. Ines gifted something to Mikkel, and Adult Jonas is about to leave the hotel room. Now Bartosz has its eyes on Eric's phone, and an unknown caller called his phone, and Noah called him and said something to him.
Hanah reached the doors of Katharina and brought some eateries to her. She asked about the children and whereabouts of Ulrich. Katharina suspected that something is going on with Ulrich, and Hannah and Adult Jonas left the room and asked to deliver something for him. Now Jonas And Bartosz are talking, and he mentioned about Marta no replying to his calls, and they started playing Playstation.
Bartosz told Jonas about Eric's dealer and wants Jonas to come along to deal with him. Now Noah is meeting with Mikkel and claim himself as a priest of St. Christopher Church and asking him strange questions. Ulrich cleared the air between him and Hannah and told her that he couldn't do this anymore. Ulrich asked her to leave and don't come to him ever. Now the scenes moved back to 1986, and Hannah is pretty jealous about Katharina and Ulrich getting closer. Katharina asked Ulrich to get physical with her and told him to bring protection with him. Ines asked about Mikkel to let him stay in the hospital as he recommends transferring to a Children's home.
Ulrich was talking to Charlotte about the situation and told her that his life is a complete mess, and he cheated his wife. Charlotte asked him about 33 years cycle where the planets and stars move to the same position, and the solar-lunar cycle occurs. Charlotte claims that it all happened before and 33 years ago. Now Adult Jonas is meeting the young Jonas as he is sitting near his father's grave. Adult Jonas told Young Jonas that he knows his father and signaled him about the center of the cave for a possible path to his answers.
Now the scene moved back to 1986, and Hannah is sitting with her father in a van, and she saw Mikkel unwrapping his gift, and there's a book named I am not afraid. She approached Mikkel and asking questions about herself, and Mikkel shows him a magic trick. He also tells her that he is from the future, and now Ulrich and Katharina are getting physical in the locker's room and witnessed by Hannah.
Now Adult Jonas retreated to the cave and young Jonas going to school to watch Martha's play. Meanwhile, Bartosz keeps calling Jonas, and he rejected his call and focused on Martha and Bartosz going to meet Noah all alone. Jonas cleared the air about his 1-month disappearance and told Martha that he was in the post-traumatic center.
Charlotte finally has the sketch of Noah and Ulrich sneaking Katharina and then sleep with her. Katharina asked about cheating, and Ulrich declined it, and Hannah is not feeling okay. Back in 1986, Hannah reported about the incident that Ulrich molested Katharina. She filed a complaint to Egon, and he arrested Ulrich for the crime he committed.
Young Jonas got a parcel, and he opened, which consists of a light and some device that shows him the direction in the cave. He also found a letter in it, the same letter Michael wrote before he committed suicide. The letter cleared the air about Mikkel that he is the father of Jonas as he traveled back in 1986 and married Hannah. Jonas is reaching the doorstep of Tannaus and wants to talk to him about the time.
Walkthrough
The Episode is perfectly synced with the events of 1986 and 2019. Hannah acquainted with Mikkel, and Jonas came to know that Mikkel was his father, who traveled back in 1986. Ulrich had some issues with Hannah and Charlotte suspected that these events are no longer a coincidence.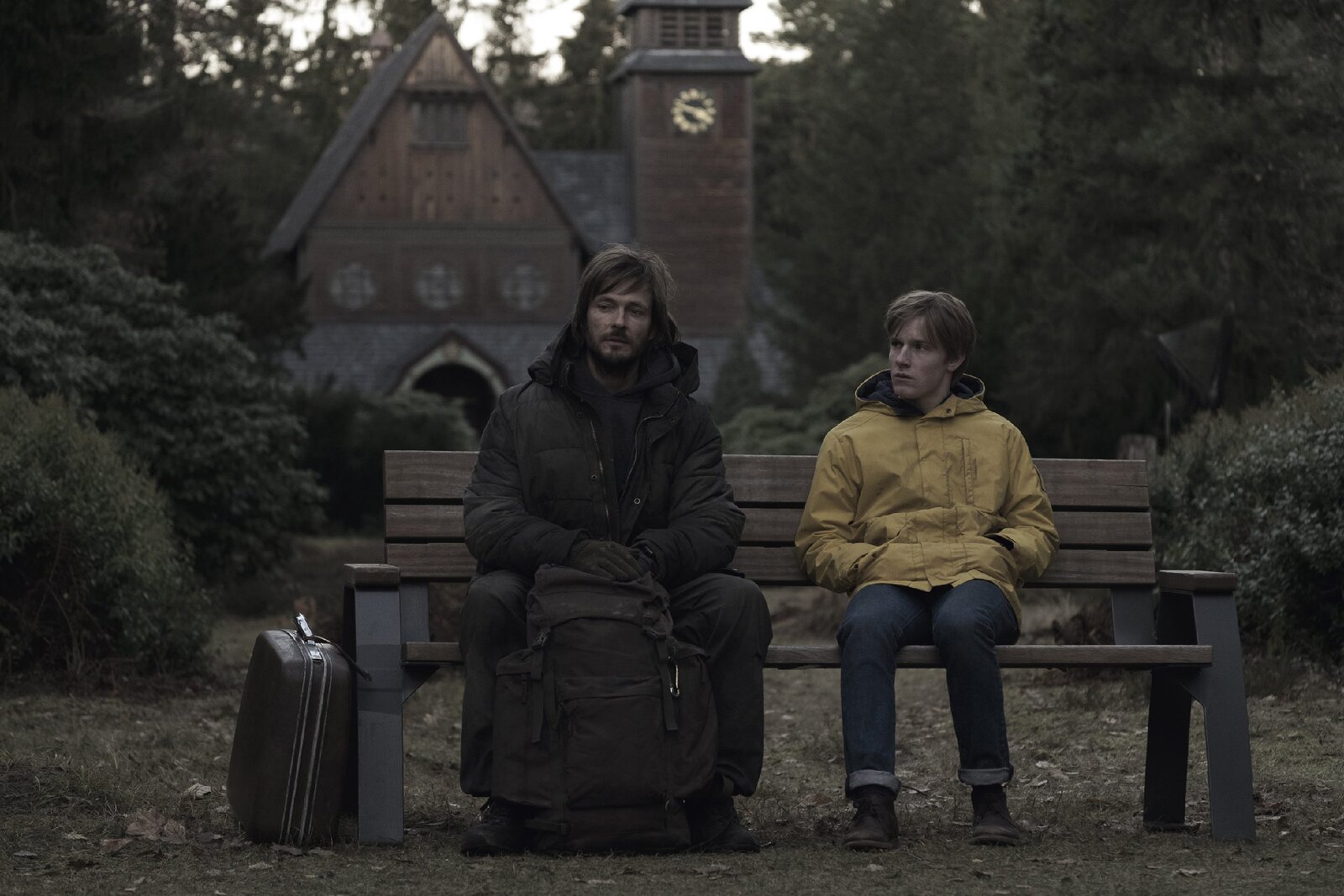 Season 1 Episode 6- Sic Mundus Creatus Est
Regina tied to a tree and screaming that this was getting worse and called for help. Regina had a nightmare about her past, and she woke up suddenly and consoled by Aleksander. Now Winden is facing such harsh conditions where one boy is dead, and the other three are still missing. Charlotte ordered the double shift, and Jonas is asking Hannah about his dad.
She told him that she had a broken leg and his conditions before he was sick. Jonas tried to tell her the truth, but he didn't, Ulrich is finding some files of 1986 and took the photo of Mads and him. He is listening to the tape and looking for some clues. Martha and Magnus are heading to the school and eventually blocked by Katharina. Martha and Katharina engaged in an arguement and labeled each other selfish, and Marta angrily claimed Mikkel is dead.
Regina is carefully observing her test reports, and something's not okay with them. Jonas is lying all alone, and suddenly he takes out the map and finds the mark which Adult Jonas inscribed on it. Ulrich was confronting Tronte and asked his whereabouts of the night when Mads got disappeared. He also suspected him about the Mikkel disappearance, but Jana cleared the air between the two. Jana told him that Mads got an injured chin when they both were boxing, and Ulrich talked about the recordings. Jana told him that Tronte was sleeping with another woman and disclosed the name. It was Claudia and claimed that it was Regina who last saw the Mads before his disappearance.
Magnus is at the spot where Fransizka had her money, and he found the box empty, but after some time, he found a neckless. Jonas is well prepared with the gears, and he is heading to the caves to find out what's going on. Bartosz finally greeted Martha, and Martha doesn't want to be with him. Katharina checking the call records of Ulrich as she already suspected something, and she called the number, and Hannah picked it up.
Now her doubt turns to reality and suspects that Ulrich is really cheating on her. Now Jonas is heading to the cave; meanwhile, Ulrich is confronting Regina and ask her about Mads. Regina reminds him about the childhood game, and Mads helped her to reach home when she was tied in the woods. She clears the air about that it was Hannah who reported him to the police, and Regina clears herself up. Aleksander read the report of Regina, and Ulrich finds out that Hannah was behind his conviction that year. Peter and Tronte reaching the bunker and Aleksander, know the real truth of Regina's deadly disease.
Now Jonas is exploring the caves and finds out the threads binding to some places. Ulrich is confronting Hannah about his conviction in 1986 and accuses her that she wants to ruin his life. Ulrich labeled her as poison and told her that she was the main reason behind her husband's death. Jonas carefully follows the instructions and finds something unique, and he founds out a passage that leads to the gate, which clearly says Sic Mundus Creatus Est. Jonas opened the door, which follows a path, and again, lights are flickering.
Tronte and Peter already know that something's gonna happen, and they are waiting in the bunker. Regina and Katharina engaged in a brawl and stopped by Magnus. Jonas was heading past the gate and crossed the cave to the other side. Now Jonas is at the bus stand and observes the missing poster of Mads Nielsen. He greets the younger version of his Mother and seems surprised by the fact that he actually moved in 1986. Ulrich is looking for the chin sign as told by her Mother, and he observed the same sign on the dead body's chin. Now it is confirmed that the dead boy is Mads.
Walkthrough
Now the series is heading to the head-spinning scenario as the events of past and present are colliding with each other. Jonas is finally headed to 1986, and he seems surprised by the fact that a cave passage leads him to another time. However, the gate only works within the time span of 33 years as the Solar-Lunar cycle. Tronte and Peter already know the fact that something's gonna happen as it is already written on a page. Jonas saw a younger version of his Mother and declined the lift offered by her.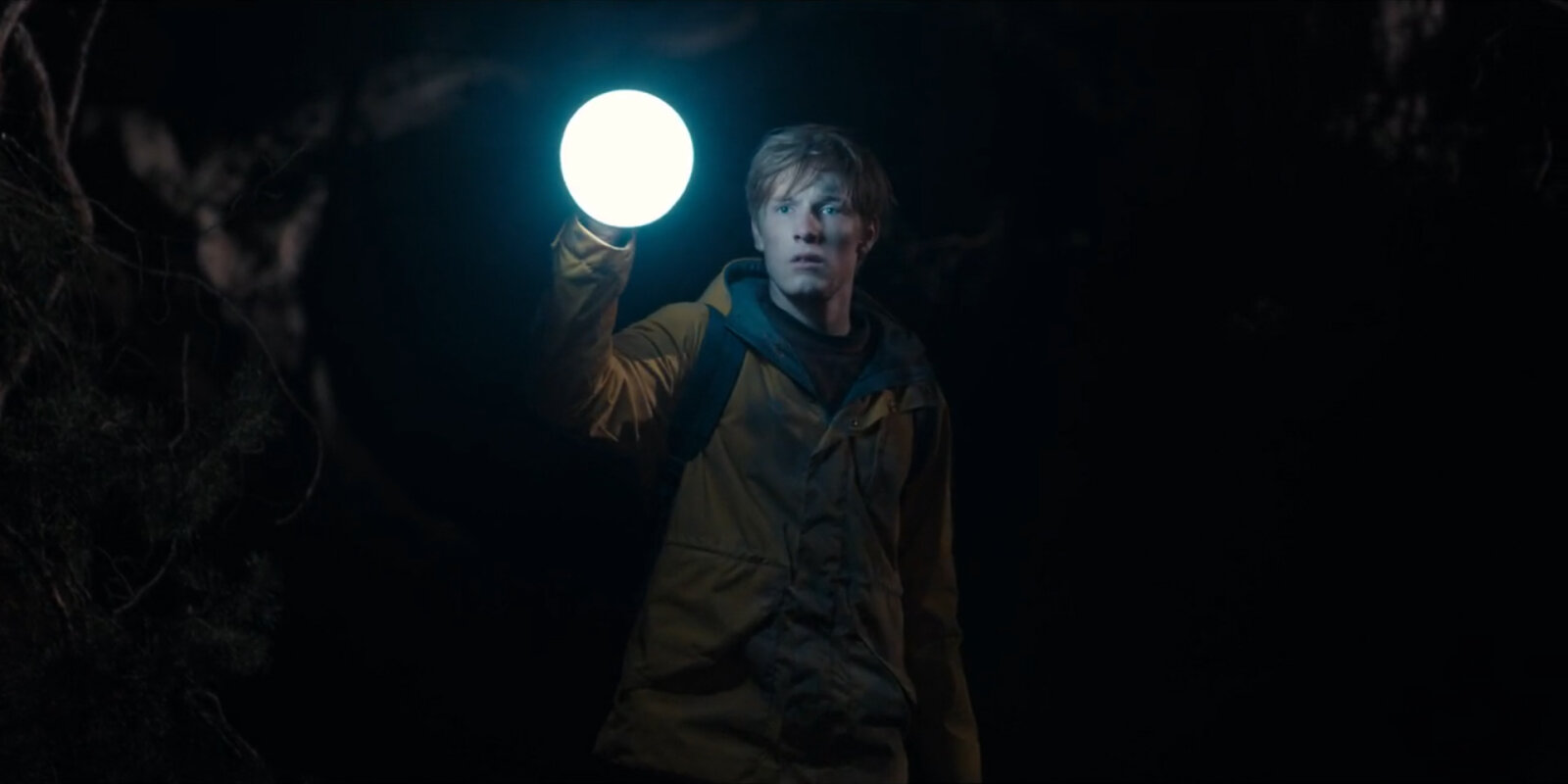 Season 1 Episode 7- Crossroads
Young Helge is lying on the floor of the bunker and exploring the room as he dreamt about his past. Scenes from 1986, Egon watching Ulrich in his prison cell, and the adult Ulrich are standing on Mad's grave. Jonas is residing in a shed and about to leave it. Now he is exploring the town, and Ulrich approached the Forensic staff. Ulrich asked her that the body of the boy could be preserved for 33 years. The doctor ultimately declined her claims, and now Jonas is heading to the school where he is studying in his time period. He found Regina on the floor and asked her about the date and year, and she answered him that its November 9, 1986. He told her that he was looking for Michael Kahnwald and regarded him as Ine's son.
Now Egon is suspected Ulrich for his brother's disappearance as he is currently facing charges of molestation. Ulrich is collecting the clues, and in 1986, Egon headed to interview Helge about the schedule of the plant. Charlotte is waiting with a warrant to explore the nuclear plant. Aleksander has to open the gates for the police, and in 1986, Egon approached Jonas, who is walking down the streets. He told Egon that he is injured and heading to the hospital, and Egon decided to give him a lift to the hospital. Police are now exploring the plant and Ulrich called Charlotte about her father in law interview with Egon. Ulrich suspected that Helge kidnapped Mads in 1986 and Yasin, possibly Mikkel. Charlotte cleared the air about his involvement in these activities.
Jonas is riding with Egon, and Egon observed his earphones, a technology that is not available in 1986. Egon dropped to the hospital, and Charlotte is exploring the plant and find herself into a cave. She found some traces of barrels and suspected something unusual happening in the plant.
Now Jonas is in the hospital and asks about Ines Kahnwald, and Nurse pointed to the direction of her room. Charlotte finds a secret door within the tunnels, and Ulrich approached Helge to question him about Mad's disappearance, and Helge loses his control over his breathing. Helge keeps on repeating that he can change the past, and Ulrich keeps on asking about Mikkel. Jonas is now looking straight at her grandmother Ines and Mikkel with her, and then Adult Jonas appeared beside him.
Adult Jonas clarified all the things about Mikkel and told him that Martha is his aunt. Young Jonas decided to take Mikkel with him and eventually stopped by Adult Jonas as he told him that he would never exist if he takes Mikkel with him. He simplified the situation that Hannah will meet Mikkel, and then they will get married. By doing this, Jonas itself erasing his own existence. Charlotte confronted Ulrich about his sudden entrance in the hospital and created such fuss. Charlotte stated the fact that Helge has dementia, and he can't do things on his own.
1986- Now Katharina gave the statement to relieve Ulrich from prison and concluded the fact that whatever happened was her consent. Now Mikkel is walking through the pathway of the hospital and greets Hannah over there. Jonas got reminded about the possibility of vanishing himself if he takes Mikkel with him. 2019- Ulrich talking with his mother about the possibility of Mad's death, and she declined the fact that he is no more.
1986- Helge is heading into the bunker and 2019- Woller approached Charlotte with a map and talked about the cabin. Charlotte asked Peter about Helge's involvement in some cases, and Peter told him that he got in an accident on November 12, 1986. Now Jonas again using the door and returned to his time, 2019, after he discovered that nothing could happen regarding these incidents and lights flickering again. Charlotte exploring the bunker and finds out a missing piece of wallpaper.
Jonas finally returned and checked on his mother, and a few moments later, he burnt the letter written by his father, Michael Kahnwald. Ulrich again headed for Helge's hospital room and found the coin locket and a book. He noticed Helge is going through the woods and heading for the caves, and Ulrich cracked the system that Helge kidnapped the kids in 1986. Ulrich followed him through the caves and Noah, and Helge wiped out the proofs of the dead body. Noah wrote the date on the wall of the bunker.
Walkthrough
Now the Time travel concept is much clearer than ever, Adult Jonas already met Young Jonas but still its a secret for him. Jonas tried to lure Mikkel back in their time but stopped by his adult version of himself. Ulrich was following Helge and cracked the system that Helge had a pivotal role in the kidnapping. If we talk about the in-depth concept of the episode, then the body of Mads was kidnapped in 1986 and brought just after in 2019. So the killing and torture happened in 1986, and through time travel, the body conveyed in 2019. So Noah and Helge using Time Travel at their finest.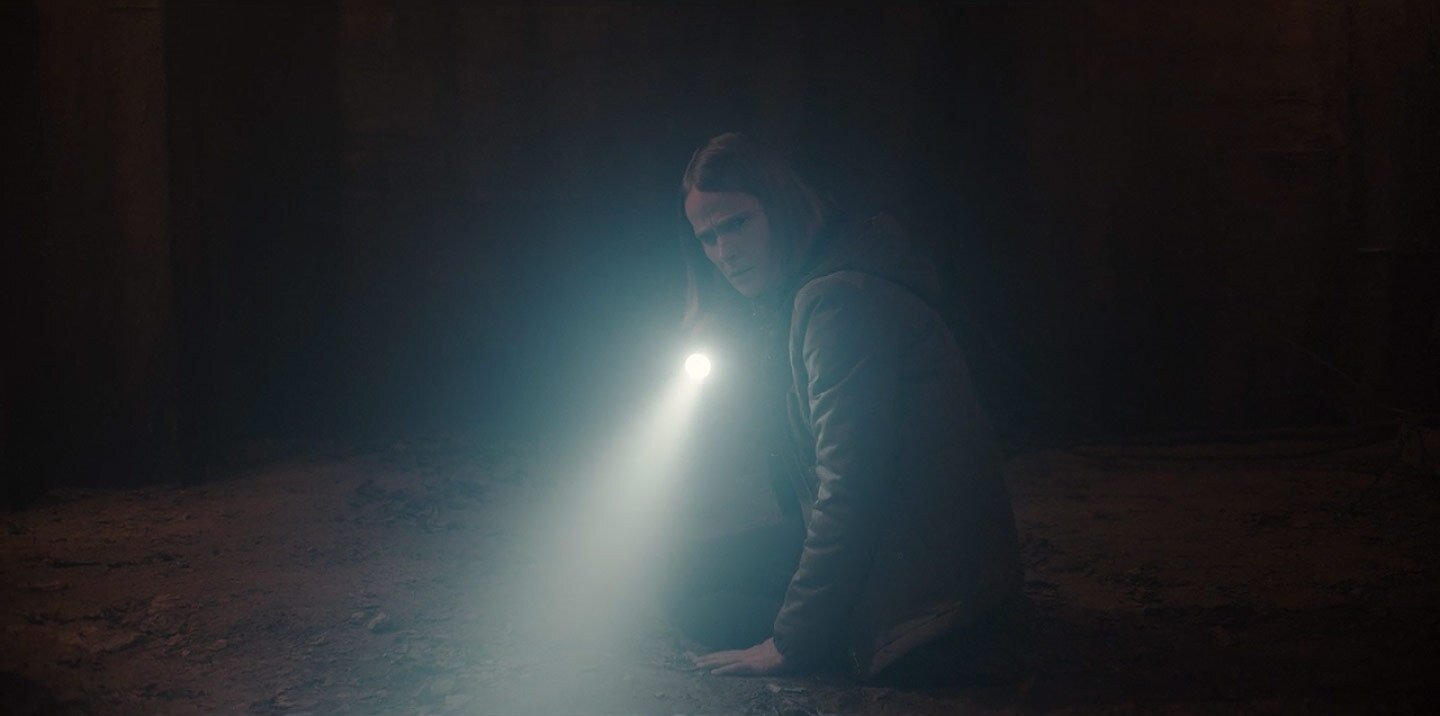 Season 1 Episode 8- As You Sow, So You Shall Reap
Now the story back to 1953, Helge is riding on his bike, and adult Egon is called upon to see the children who were having the same conditions as Mads. Adult Jonas approached Tannnaus, and they are discussing the passage between the black hole. Ulrich is still exploring the caves and tries to find Helge. He found the same spot which Adult Jonas made for young Jonas. Now Ulrich is heading to the same passage, and meanwhile, Tannaus explained Jonas about the Triquetra, the third dimension.
Now Ulrich reached the passage which says Sic Mundus Creatus Est, simply the door of time travel. He opened the gate and reached the other side of the cave. Helge reached the doorstep of his home and bashed by her Mother for his clothes condition. Helge told about dead bodies he saw at the construction site, and his father quickly rushed outside.
Now the bodies are under examination, and coins from 1986 were found with the body and most shocking thing their clothes are from China. Now Ulrich is heading outside the cave, and Helge again riding on his bike and reached an outhouse. He opened the bunker and started playing and acted as a soldier. He observed the dates written by Noah.
Adult Jonas shows Tannaus his book and talking about the 33 years cycle. Adult Egon is discussing the murder of Children, and on the other hand, Helge got bullied by two other kids. Ulrich reached the scene and stopped Helge and asked about elder Helge and gave some tips about how to prevent bullying. On the other hand, Tannhaus explaining Jonas about the wormhole and concept of space and time. Ulrich approached by a lady and asked about an address and finds his grandmother Agens Nielsen and his father, Tronte. Now Ulrich's head is spinning as he met his grandmother and father and asked about the year.
Now Ulrich is heading at the doorsteps of Adult Tannhaus and shows him the book he wrote. Ulrich again asked the year and got the same answer-1953. So now, a three-dimensional wormhole is created, and younger Claudia is playing with her dog. She and Helge did a bit of homework, and suddenly, Agnes already on the doorstep of Egon and told her that his husband is dead. Ines and Jana approached Tannhaus and told him about the incidents involving the children. Ulrich approached her and asked the incident again and then left the Tanhaus's place.
Now Helge is feeling uncomfortable as Claudia is getting closer to Tronte, and they observed the caves. Helge sends Claudia's dog in the cave, and she got lost in the caves. Now Ulrich is confronting the police to find out that Mikkel could be one of those children. Egon approached Ulrich and ask him about the situation, and Ulrich asks him about Helge. Egon reached home and greeted his wife Greta, and she told him about the new tenants. She introduced him to Agnes Nielsen, and Egon asked a few questions to her.
Young Claudia screamed that her dog Gretchen is missing and lost in the woods. Now Ulrich finally confronted Helge and tried to kill him to stop all the things from happening. Egon reached Dopler's place and looking for Helge, but her Mother ruled out her presence. Ulrich takes Dopler in the bunker and then flashes of characters, and Elder Claudia witnessed for the very first time. Jonas finally revealed to Tanhauss that he traveled to 1986 and revealed the Device to him. Tanhauss seems shocked after seeing the Device and warned Jonas about it. Tannhaus told Jonas to leave, and then adult Tannhaus takes the jacket of Ulrich and found his phone in the pocket.
Walkthrough
Mad's body found in the year 2019 and Eric, and Yasin's bodies got found in 1953. So it is evident that time travel is being used to transport the bodies from one time to another. Ulrich is being added to the list of names who experienced time travel as he traveled to 1953 and met his grandmother and father. HG Tannhaus cleared the air about the time travel after Jonas had some arguments with him. Ulrich tried to kill Helge to stop all the things happening in the near future and placed his body in the bunker.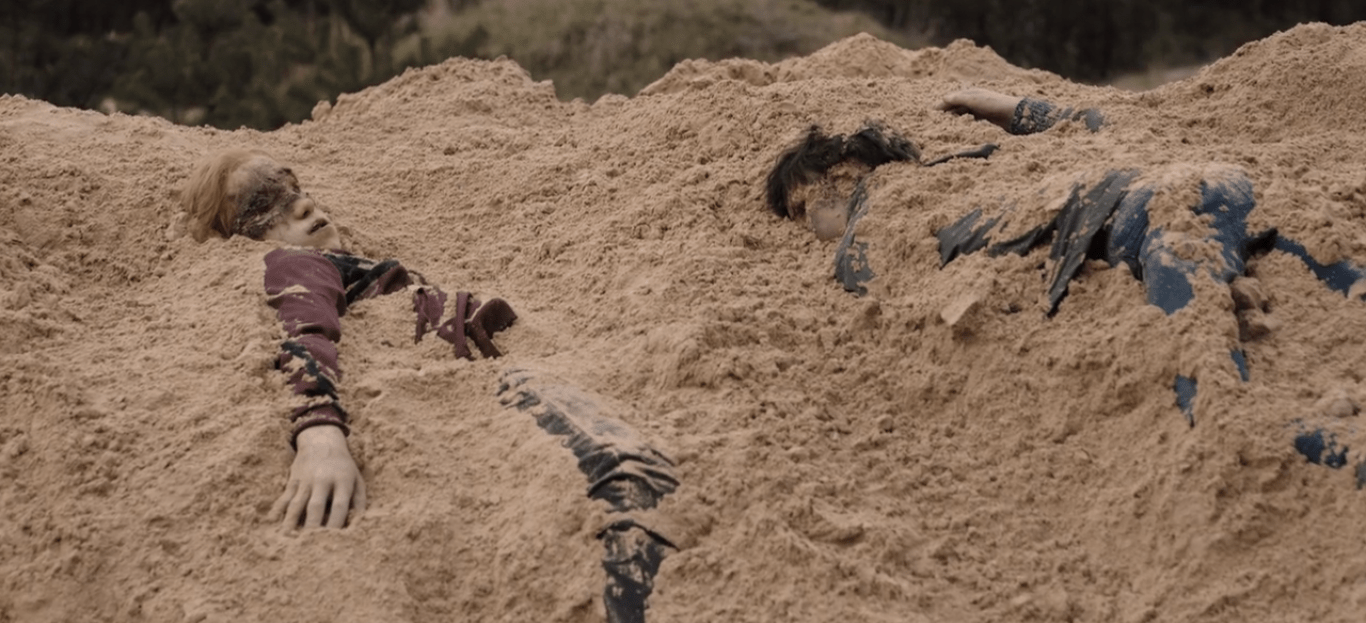 Season 1 Episode 9- Everything Is Now
The Episode starts with the character's faces of their present, past, and future. The Time travel device seems to work and the scene back to 1953. Now child Helge is missing, and his parents are worried about the fact that he vanished and Ulrich sitting outside the bunker after he was striking Helge with a stone various times. Tronte and Claudia are searching for Gretchen in the woods, and Agnes and Doris well gelled with each other. Noah greets with Greta and asks her to pray for his son. Egon finds Ulrich walking down the lane and stops his car and starts following him, and Ulrich nearly reached the cave but stopped by Egon. He told him that Helge is dead, and he changed everything, but Egon arrested him.
Now Helge is lying on the floor and indeed he still alive, and on the other hand, in 1986 a man is running with a polybag in his hand. Katharina is waiting for Ulrich, and she is talking with Hannah, and she clears the air regarding Ulrich. Hannah played his card and told Katharina that Regina is behind all the fuss, and Ulrich finally released from his prison cell.
Jana Nielsen slapped Ego and threatened him to withdraw from Mad's case. Claudia once again hopped beneath the caves and looking for barrels. Katharina and Ulrich finally confronted Regina after the suspicion of Ulrich's conviction. Now Young Aleksander came to the rescue of Regina and showed the gun to Katharina and Ulrich and told them to back off.
1986- Now Egon taking the fact into consideration, and he headed to Dopler's home to confront him. However, he got saved somehow, and Aleksander had his original documents, which showed his name Boris Nielwald. He hid it in the woods, and Hannah noticed him and thought something evil. Aleksander approached Claudia for a job and described her as a metalworker.
Helge and Noah engaged themselves in an arguement, and he pointed a screwdriver at him. Now Hannah put out the polybag that she stole in 1986 and found the gun and his original passport. Charlotte reads the voicemail of Ulrich and suspects something again. Now Magnus and Fransizka are dating and getting physical together.
Martha wants to talk to Jonas and find out that Magnus and Fransizka were dating when she left the house. Katharina approached the gates of Hannah and started looking for Ulrich and threatened Hannah about her husband's affair with her. Bartosz is playing games, and then Claudia suddenly appeared at the door to see her daughter Regina. Now Hannah tried to blackmail Aleksander by showing her the polybag and ask him to destroy Ulrich. Jonas finally met Martha, and they kissed. Regina is washing the rooms and saw the patterns on the wall in the room, which Jonas rented some days ago. Bartosz is again meeting with Noah, and he wants to reconsider his offer.
1953-Now Tanhauss is examing the phone which Ulrich left in his jacket. Claudia surprised Tanhauss by arriving at its door and showing him the blueprint of the device.
Walkthrough
Now the three different timelines are running, and Ulrich in 1986 and Claudia already circulated through 1953 and 2019. So Claudia is becoming the top contender who uses Time Travel perfectly while Noah and Helge still on the top to create an interface between children's murder.  Now Claudia approached Tanhauss to show him the blueprint of the device, which is actually a time machine.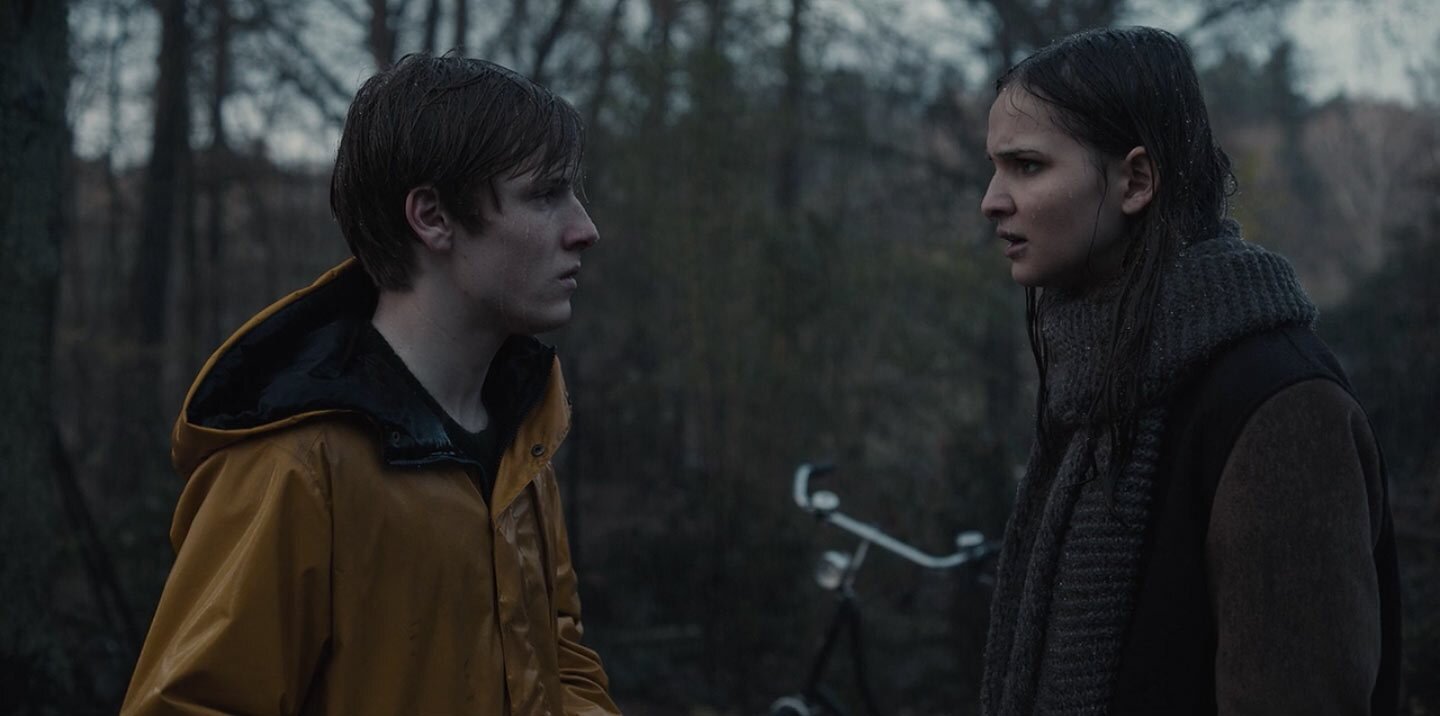 Season 1 Episode 10- Alpha And Omega
Peter is heading to the bunker and sitting on its bench and beg for mercy. Suddenly something tears the air, and a body fell out of nowhere, and Peter trying to revive him. Peter called Tronte and told him that it's his son who is lying on the floor and his eyes are totally damaged. Claudia also appeared there, and she wants to explain to them what's going on and told Tronte that escort Mad's body in the woods. Jonas had a dream that Mikkel is sleeping beside him, and he suddenly woke up and took his medicine.
Martha confessed to Bartosz that she is sorry for what he did to him, and she can't take this further. Helge is missing, and Charlotte is looking for him as she reaches out to his room. Helge is sleeping in the shed, and Jonas finally approached Ines and ask her about the boy from the future.
She showed him the letter, and Jonas seems surprised as he burnt the letter. Ines explained Jonas everything, and he reacted to it in a strange way and explained the ambiguities. Now Egon is interviewing Ulrich, and he explained to him that he wanted to save the children. Jonas and Bartosz and he is still mad about him leaving him in the first place, and they engaged in a fight. Martha stopped them and Adult Jonas again, reaching out Tanhauss.
1986- Tanhauss still possessed the phone that Ulrich left in his jacket, and he used it as a device to run the time machine. Jonas took out CS-137 and put it into the time machine, which creates a Higg's field. Jonas asked him why he decided to help him in the first place, and he had his reasons.
Now elder Helge and Young Helge are in front of each other, and the elder one told the young one to stop. He told him that everything Noah said to him is a lie. Now Jonas is again heading to the caves, and he met a younger version of Charlotte, and the adult Charlotte found Ulrich's photo in the records, which are dated in the year of 1953. Now Jonas is face to face with Noah, and Helge kidnapped him, and now Adult Jonas reached the bunker.
Young Jonas asked Adult Jonas Who is He, and he told him that the letter written by himself and he is Adult Jonas and Young Jonas, starting losing his mind. Helge got himself in an accident and got injured badly. He came out and looked for another car, and he saw older Helge in the car. Now lights are flickering again and its ends with child Helge hiding in the bunker and Young Jonas also in 1986, and he suddenly saw Helge on the other side, and they got their places changed, and Jonas traveled in another time and saw everything on the bunker wall, and he got surrounded by some guards and asked them the year and got hit by the gun.
Walkthrough
Now it is clear that the time intervals are getting better and better, and within the 33 years gap, you can also go in the future. So simply, the concept of Pure Time Travel begins, and Jonas finally comes to know that he could be at different places at the same time.