Lucifer Morning Star, the Devil, He is the one who changed the scenario of town. Netflix now has its broadcasting rights, and power-packed four seasons are running riot on the platform. So we are here to provide every single detail regarding the Devil Incarnate.
Here's A Brief Recap of Every Season, and after reading this, you won't need to watch the show.
Who Is Lucifer?
Lucifer is indeed a devil, but before he has thrown to Hell, he was an angel. Fallen Angel, in simple words, Lucifer is one of God's sons, and as a punishment, he been offered to Hell and become the conqueror of the underworld. After his coronation in Hell, he ruled it for years and decided to seek revenge from his father and charged a rebellion against him. He got failed miserably, and after that, he been ordered to remain in Hell for all eternity, and Heaven's gates closed forever for him. Thus, later he became the torturer of Hell.
Modern Representation
Now Lucifer has its modern representation, and he wants himself relieved from his duty and looking for a Vacation. So he headed for the City of Angles Los Angles, and later his life got completely changed.
Lucifer Characteristics
Lucifer is dashing and a wealthy owner of a club called LUX in L.A. He took the help of someone who grants new identities to the people, and thus, he already existed for five years in the official records of the state department. He comprises of such powers which tend to know the secret wishes of the people. He just stares you for a while, and bam, you will swallow all the secrets inside and your endless desires.
Now we are heading season-wise as the story moves forward, so sit back as it will be a long journey to cover.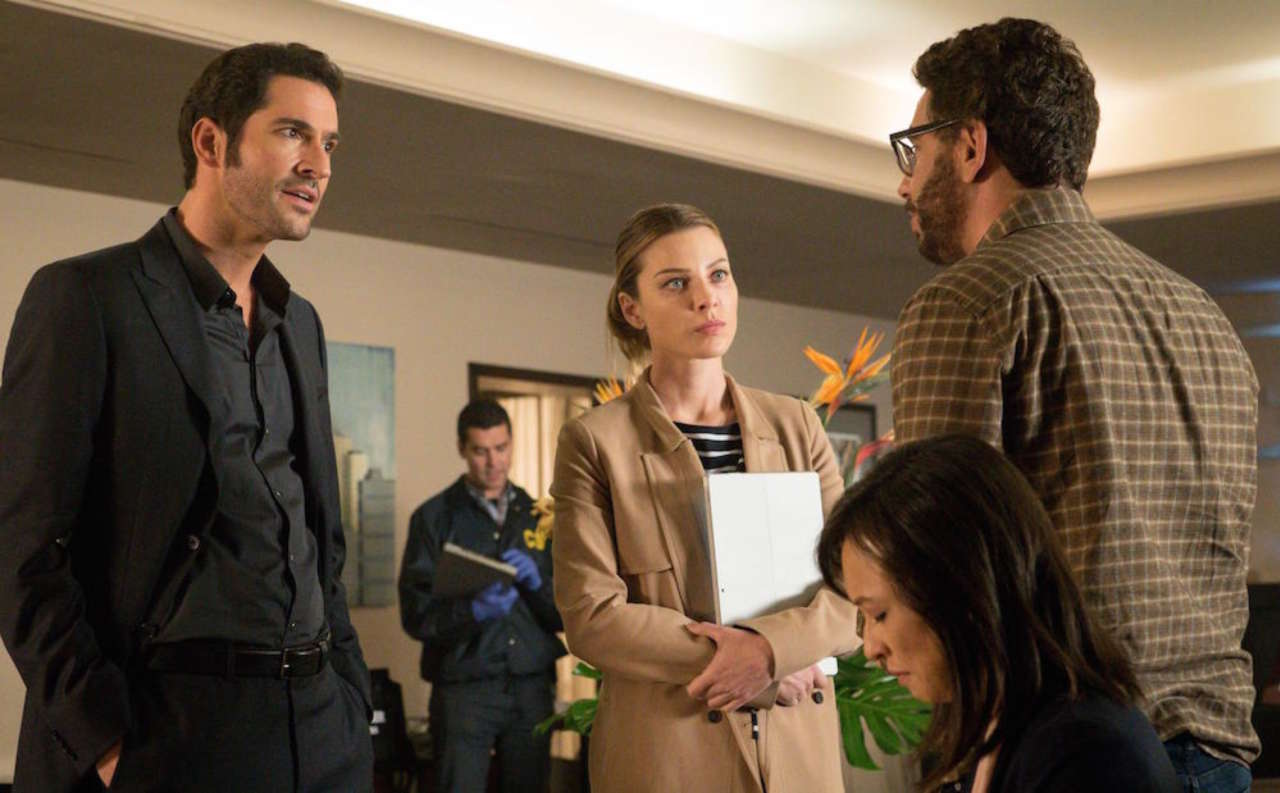 Lucifer: Full Story Of Season 1 With Cast Detail
The first season obviously includes the introduction of protagonists and the motives of the show.
Trailer
Cast
Tom Ellis
Lesley-Ann Brandt
D.B. Woodside
Kevin Alejandro
Lauren German
Rachael Harris
Scarlett Estevez
Kevin Rankin
Heather Tom
Season 1 Episode 1- Pilot
Now the Devil riding in his 61-62 Corvette and pushing the speeding limits and then caught by the traffic police. Then the magic comes, and he asks the officer for his desires and bribes him. This is the moment when the intro is just not getting any better. Then he entered his owned club LUX and met his friend Mazikeen and then the intro of his brother Amenadiel who possessed the ability to stop the time, and he asks him to return where he belongs, and Lucifer denied his request. He met a girl named Delilah, and after some conversation., they headed outside, and the girl was murdered by someone and injuring Lucifer as bullets have no such impact on him.
The Killer engaged in a crash and revealed that he just pulled the trigger. Then the moment of surprise and another lead Detective Decker is on its way at the crime. She enquired about Lucifer about what happened, and he claimed that he had a conversation with him. Chloe explained to him that the girl was killed by a narcotics dealer. Later, Lucifer tried his trick on Chloe and didn' t work out. Much later in the episode, they found the guilty party, and Chloe was shot and became irresponsive, and at the same time, Lucifer shot six times in his back and then punish Jimmy in his own nomadic style. Chloe barely saw what happened, and she woke up in the hospital and recovering. Then, in the end, Amenadiel came up to him and confronted him again for a possible return.
Season 1 Episode 2- Lucifer Stay. "Good Devil"
At the start of the episode, Lucifer showed his real face to Padre, and he got scared. Then Lucifer looking for his mental sessions and met Dr. Linda, who thoughtfully listens to him, and she charged the fees in some other way. Chloe arrived at Lux and have a word with Mazikeen, and Lucifer sang a song for the crowd. After that, Chloe confronted him and mentioning the fact that he got six times and still alive. She found out that there was no bulletproof jacket, and yet, he manages to pull off the death around the corner.
On the other hand, Lucifer also suspects her that his abilities don't work on her, and then she got a dispatch call and asked to investigate. Robbie Russel Jr died in an accident, and then Lucifer crashed at the crime scene and suspected Paparazzi killer Nick gets caught, and Lucifer did his trick on him and interrupted on the verge when he's about to reveal something. Lucifer destroyed the evidence by destroying it. Amenadiel again showed up at his suite and asked him to go back to Hell. Lucifer reached the door of Detective Decker and accusing her of taking bribes after exploring her house. Lucifer found more about her personal life, and then they headed to Precinct, and Lucifer interrogated Nick in his devilish style.
So ultimately, Lucifer now teamed up with Chloe and assisting her with the case. They are looking for the media personals who pursued Robbie, and they finally found one, and distractions were on its way. But somehow they managed to catch the paparazzi, but it wasn't him as they suspected. Detective Decker advised Lucifer to stay away from his police work and interrogated Nick once again. But as the turn of events, the photographer is the guilty party, and Lucifer uncovered it all with the help of Mazikeen. Lucifer called Amenadiel to stop the time and prevent any casualties from happening. Chloe again suspecting as Nick pulled the trigger, and photographer Josh was detained.
Season 1 Episode 3- The Would-Be Prince Of Darkness
The third episode starts with Lucifer is enjoying his lush life and encourage a girl to jump into the pool. He met Ty, a celebrity who didn't get laid and Lucifer and advised him to live his life with full potential. Then Ty told Lucifer that he needs a favor, and then Lucifer called Detective Decker as a causality happened, and Ty got framed for it. Then Lucifer assisting Detective Chloe while investigation and Chloe declined his offer. She called her ex-husband to investigate the case and looking for evidence. She found a car key, and his identification got revealed with the help of her license. Then they found something in Ty's bedroom, and Lucifer found a phone which has tape on it, and Ty got arrested for the murder of Ali. Lucifer concluded the fact that Ty's not the Killer, but Chloe refused his claims. Lucifer advises Chloe to go through the phone one more time, and Chloe sends her away, and he returned to the club.
Lucifer then banged the doors of Doctor Linda Martin and expressing the whole scenario. She guided him, and then he already at the destination where Chloe tend to head. Lucifer tracked the phone records, and Chloe looking for Ty' agent Joe Hanson. Lucifer is dealing with his imposter, who was defaming him with his lifestyle. Lucifer and Chloe discovered that Joe Hanson is the final culprit as he was afraid of losing Ty's management. Lucifer just pushed Tya, and he fell out of the building, and Chloe again suspected her powers. Lucifer showed his importance regarding the case, and Chloe also seems impressed by his antics. At the end of the episode, Chloe examined the footage of Lucifer shoving Joe.
Season 1 Episode 4- Manly Whatnots
Lucifer Broke into Chloe's house while she was taking a shower, and Chloe showed him the way out. Then Lucifer decides to take a Session with Dr. Linda, and then suddenly, there was a case called for Chloe. Lucifer And Chloe again reunited with Lucifer to find Lindsay Jolson, who was missing. Meanwhile, Chloe cleared the air about she doesn't have any intention to get physical with him. In the end, they both found out that Lindsay kidnapped herself to take revenge from his lover. Lucifer showed Lindsay his devil face while taking the matter into his own hands.
Season 1 Episode 5- Sweet Kicks
Lucifer and Maze attend a fashion show, and then a woman was shot to death. Meanwhile, the famous kicks maker Benny Choi is suspected to be a cover killer. Maze escorting Lucifer outside the show, and Lucifer appeared at Precinct. Lucifer approached Luitenant and suggested her to involve in cases as support. Lucifer promised her for her desired post in the police force.
Lucifer and Chloe are progressing to further investigation and meet Benny and talking about his past life. Amenadiel approached Dr. Linda as Dr. Kannan, and he wants to know Linda better and pulls out some facts about Lucifer. Maze warning Lucifer that he is changing, and Maze cleared the air about she is not jealous of Chloe Decker. Maze saved Lucifer and Chloe from Mr. Viper's gang. As they were in the middle of a gang war and Decker advised Diego to stop his antics. But the real murderer is Benny, and he framed Viper for the murder of Paula.
Season 1 Episode 6- Favorite Son
The episode starts with Lucifer singing about Sinnerman, and a shipment is loaded in the docks. Suddenly the guard was choked by someone, and the shipment got stolen. Lucifer is now a civilian consultant and has to summon upon when Chloe needs him. Then Lucifer left the case as he finds it annoying, But later it is revealed that Container was missing belongs to Lucifer himself. However, Dan seeks out to take the records of Lux and wants to know what's inside the Container.
Lucifer and Chloe commenced their search for the containers and looking for those who are part of the Black Market. Amenadiel getting closer to Dr. Linda Martin and talks about Lucifer. Lucifer told Chloe that Container has Russian Dolls in it. Lucifer chased the dealer, and there were gunshots towards him and asked him the one who stole the Container. He showed him his devil face, and he jumped out of the building and committed suicide. Lucifer saw the deals, but it was just a cover, and he was looking for his angelic wings.
Season 1 Episode 7- Wingman
Lucifer is getting worried about its wings and trying every way possible to retrieve them. He and Amenadiel chatting on the beach about his life and tell him about the stolen wings and demand help from him. Lucifer also confesses to Chloe that there was something more to that Container, and he talked about his angelic wings, and Chloe took it as a joke. Chloe talked about the Palmero case and how Malcolm got shot. Lucifer showed him the wings and find that there will be a charity ball that features exquisite masterpieces, which includes Lucifer's wings.
Lucifer accompanied by Amenadiel for the charity to re-acquire what' belongs to Lucifer. With the help of FBI raid, Lucifer managed to pull out the wings, and Amenadiel stopped the time for a while so that Lucifer could possess it. But in the end, Lucifer finds out that the wings are fake. Lucifer showed up at the dealer's doorstep, and then he found his real wings and find out that Amenadiel was behind these antics. Lucifer burnt his wings in front of Amenadiel, but Maze still kept a feather out of it.
Season 1 Episode 8- Et Tu Doctor
Its Lucifer's birthday, Chloe and Dan are celebrating his birthday in their style. Malcolm's back and joking with Chloe. Lucifer is continuing to have sessions with Dr. Linda and telling about his problems. Dr. Bernie shaw got murdered, and Lucier asking Chloe about therapy sessions. A man is attempting suicide, and Lucifer jokes with him and encourages funnily, and he saved him from trying it. Lucifer suspected the man for the murder of Dr. Shaw, and he reveals everything about his history. Malcolm confronting Chloe for the Palmetto case. Dr. Linda accompanied Chloe and Lucifer helping them in the case.
Finally, they found the Killer, and Lucifer approached Linda for remaining payments. Linda signaled for a breakthrough and suggested him to keep their relationship professional. He asked Dr. Cannen as he suspected that he is none other than Amenadiel. Chloe and Dan kissed each other unexpectedly, and Dan encountered Malcolm as per his request. Lucifer confronted Maze to telling Amenadiel about Dr. Linda and claim that she betrayed him.
Season 1 Episode 9- A Priest Walks Into A Bar
At the start of the episode, Lucifer completed Pizza Delivery's guy fantasy. Dr. Linda claimed that he is lonely despite surrounding by the people. She referred to it as a friend, and he also accepts the fact. He is not sure about Chloe and his relationship. Father Frank Lawrence comes and greets Lucifer and asks for a favor. A kid named Connor is engaging in narcotics activity, and the father wants to convince Arrieta. Lucifer declined to help him, and then Lucifer and Chloe found out that Arrieta is already dead.
They asked Head Counselor Eric Doyle, and he claimed that Lenny is a good boss. Lucifer suspected Priest about the possible Killer, and Eric told his whereabouts. In the end, Eric Killed Father Frank, and he was also the Killer of Lenny Arrieta. Father Frank is on the verge of his death, and he knows about Lucifer and told him that his father has a plan. Lucifer tried to choke Eric, and Chloe told him to stop.
Season 1 Episode 10-  Pops
At the start of the episode, Chef, Xavier, murdered, possibly with poison. Chloe's Mother Penelope Decker greets with Lucifer. Every staff member got interrogated, and everyone has some problems with Pops. They questioned Xavier's son, and he claimed they had some issues with him. Lucifer used his trick to extract information and found out that he wants to have dinner with his dad. Malcolm told Dan to stole a gun, and he seized and asked the reason, and Dan wants to know the motive behind it.
Malcolm clears the air that he wants to kill Lucifer and wants Dan to do it. Trixie fled away and reached Lucifer's place, and she greets Maze. They managed to find the Killer, and she intended to kill Junior and mistakenly killed Xavier Senior. In the end, Dan refused to kill Lucifer and also don't let Malcolm kill him. They got into a fight and beat the Hell out of Dan and made him unconscious. Chloe reached Lucifer after she was drunk as Dan texted her for the settlement.
Season 1 Episode 11- St Lucifer
Chloe woke up in Lucifer's bed and thought she got physical with Lucifer. Tim Dunlear got murdered, and Lucifer and Chloe investigating his murder. Malcolm tied up Dan and expressed his intentions regarding Lucifer. Through the thorough investigation, Chloe and Lucifer found out that  Tim was in a relationship with Kyle. Tim texted a photo to Kyle, and he didn't have any idea about it. Dan asked Malcolm about his intentions and why he is doing all this? Maze confronted Amenadiel for his antics against Lucifer, and she's still mad about him. Dan finally managed to escape from Malcolm's grip.
Malcolm reached Lucifer's Doorstep and wanted to kill him. He told Lucifer that he made a deal with Amenadiel, and he was hired to kill him. Lucifer showed his devilish face, and Malcolm doesn't have any effect on it. Lucifer told him that Amenadiel couldn't kill him as angels are not designed to. Lucifer gave him the coin and settled the conflict between him and Malcolm. Mrs. Dunlear behind the murder of Tim Dunlear as she wants to take over his foundation. Chloe also disclosed everything, and his secretary revealed all the secrets.
Season 1 Episode 12- #TeamLucifer
Maze testing Lucifer's vulnerability by throwing knives at him and claimed that she wants to throw at Chloe also. Lucifer sends Maze to get closer to him and to know about his antics. Lucifer ignored Chloe for three weeks, and she appeared in his room to take him with her for a case. Someone murdered a girl and inscribed Hail Lucifer on her back. Malcolm working on the same case and meets with Lucifer. Dan wants to talk about the text sent from his phone, and Chloe shifts his focus on the case Amenadiel confronted Malcolm and told everything about the coin. Lucifer and Chloe proceed with their investigation about Rose's murder. Lucifer wants to know that Chloe is an angel or not and looking for a possible mark. Amenadiel and Lucifer are battling it out after they both used the same ways to manipulate each other. Maze stopped them and claimed that she was the pawn, and they both used her for their benefit. In the end, Lucifer framed for murder.
Season 1 Episode 13- Take Me Back To Hell
Malcolm killed someone and put it on Lucifer and everyone, including Chloe pointing a gun at him. Lucifer disappeared from the scene, and Chloe requested a search. Amenadiel helped him get out of the situation, and Lucifer told him that he doesn't need to kill him as he wants to return to Hell. Malcolm retrieve the knife, which could Celestials and possibly Lucifer. Dan revealed everything about Palmetto, and Chloe asked him to fix things and prove Lucifer's innocent. Lucifer and Amenadiel cleared the air about their connection and claimed that they are brothers. Lucifer is now taking Amenadiel's identification to the next level. Malcolm's wife fired some shots at Chloe and Maze as she mistook as Malcolm.
Also Read: Lucifer: Full Story Of Season 2 With Cast Detail
Dan told the whereabouts of Malcolm to Lucifer, and Lucifer andAmenadiel disappeared. Malcolm was dealing with Tommy, and he tried to loot him on gunpoint. Lucifer and Amenadiel dealing with thugs and beat the Hell out of them. Chloe also reached the vantage point, and Malcolm stabbed Amenadiel with Maze's Knife. Lucifer left him and pursued Malcolm, and Maze came to the rescue. Chloe firing shots at Malcolm and found Lucifer and pointing the gun at him. Chloe and Lucifer united to catch Malcolm, and Dan came up with evidence and Maze healing Amenadiel with Lucifer's Feather. Dan turned himself in, and Malcolm abducted Trixie and wants to retrieve his money.
Chloe left the Precinct with cash, and Malcolm warned her about Lucifer. Chloe told him about Trixie's situation and asked Lucifer to let her go alone to face Malcolm. Chloe asked for Trixie before handling the money to him, and she told Trixie to hide. Lucifer came in the way and now demand Malcolm's gun. Malcolm shot Lucifer, and now Lucifer made a deal with God, and he wants to do everything, and in return, he demands Chloe's safety. Lucifer summoned back to Hell and had visions of an open gate and suspected someone's return from Hell. Malcolm got shot by Chloe, and Lucifer vanished the coin as he used it. Lucifer told Amenadiel that someone ran away from Hell, and the one got away is their Mother.